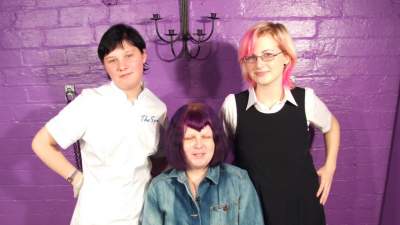 Starring these models:
"Gunge, gunge, and gunge!"
| | |
| --- | --- |
| File count: | 5 |
| Total size: | 795.2 MB |
| Released: | 11/18/09 |
| Produced: | 2006 |
| Product ID: | gm-2f04 |
| Views: | 12585 |
| Scene ID: | 506 |

$8.00
Lady Full-Wellington, in a denim jumpsuit, Nurse Wendy-household, in white uniform tunic and trousers, and Miss Pink, barmaid of the village pub, dressed in a posh schoolgirl's pinafore dress, take turns covering each other in treacle and syrup.

Miss Pink has her boots and then her dress filled, then covered, and then takes a pie sandwich to her head, and gets a gunge shampoo.

Nurse Wendy has the tunic of her white uniform filled until the gunge runs out into her lap and over her trousers, and then gets completely coated in black treacle, the other two girls carefully spreading the treacle all over Wendy's all-white clothes. Lady Full-wellington has her jumpsuit pockets, and then the jumpsuit itself, filled with custard, she turns round and takes a pair of custard pies on her still-clean bottom, and then Miss Pink carefully pours and spreads custard all over the lady's denim suit.

Finally, Lady Full-wellington and Miss Pink spend a while totally coating each other in mixed goo, Miss Pink has the back of her dress both covered and filled, and the two of them play-wrestling on the floor. After a bit of wrestling, during which Miss Pink takes her rubber boots off and pours their contents over Lady F-W, Miss Pink pulls up the front of her dress while sitting on the floor, letting us see her already custard-soaked gym knickers, the two girls create a lake of custard and gunge inside the back of Miss Pink's dress, which is still stretched out beneath her, and she poses for several shots with her bare legs and messy underwear rising out of the lake of goo in her dress. Miss Pink remains barefoot for the remainder of the shoot. The two women then wrestle some more, play pattycake with each other, and then finally pose for the camera.
Includes these files:
gm_2f04c_wendy_treacle.zip

2048x1536

347 photos

243.27 MB

sizes may vary
gm_2f04b_the_custardisation_of_miss_pink.zip

2048x1536

244 photos

171.33 MB

sizes may vary
gm-2f04a_clean_ladies_three.zip

2048x1536

44 photos

30.58 MB

sizes may vary
gm_2f04d_lady_fw_jumpsuit_filling.zip

2048x1536

200 photos

141.6 MB

sizes may vary
gm_2f04e_miss_pink_and_lady_full_wellington.zip

2048x1536

298 photos

208.41 MB

sizes may vary
Free picture gallery:

Report