| | |
| --- | --- |
| Shiny Satin Soup Trousers | |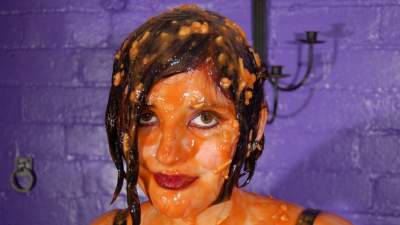 Starring the following model:
"A spectacular savoury extravaganza, with full original sound!"
| | |
| --- | --- |
| File count: | 7 |
| Total size: | 2 GB |
| Total runtime: | 28 mins, 40 secs |
| Date added: | 2/21/14 |
| Year produced: | 2011 |
| Product ID: | gm-2f105 |
| Views: | 8975 |
| Scene ID: | 9253 |

$15.00
Aha, the lovely Maude, today dressed in very shiny black satin trousers, black sleeveless dance leotard, and very sexy heeled leather boots, having a lot of fun with savoury clothes filling.

First she empties multiple tins of tomato soup into her trousers, two down the front, one down the back while bent over, and then more down the sides and front again. We can clearly see her trousers change colour as the soup flows down inside them, and then starts to seep and leak through the fabric. Maude enjoys playing with her soup-soaked trousers, pulling and sliding the wet material over herself, enjoying the feelings as it slides over her skin.

Once the trousers are well seen to, she fills her leotard too, and then she sets about herself with lots and lots of baked beans and chopped spaghetti!

Her lovely thick hair doesn't escape, as she gives herself a very thorough savoury shampoo, and a messy facial too.

In Part 2 of the messy video, Maude gets down on the mess covered floor and has a great time sliding about and massaging the savoury gunge mixture all over herself. She takes her boots off and briefly plays with them before giving her bare feet, already slightly messy from the soup she poured into her trousers, which collected in her boots, a thorough savoury gunge treatment of their own.

Maude ends up utterly drenched, head to foot, in soup, spaghetti, and beans. Mmm, almost good enough to eat!

And then of course there is the hosedown video, in which Maude, still wearing her messy clothes, is thoroughly sprayed down with warm water from the dungeon hoses.

Technicals and quick summary: The videos for this scene all have the full original soundtrack included. Maude gets completely covered from head to toe, including a full savoury messy shampoo, face coverage, and comprehensive clothes filling with soup, beans, and spaghetti. The three videos have a combined running time of over 28 minutes, and you also get over 700 very high quality photographs shot on a Nikon dslr camera.