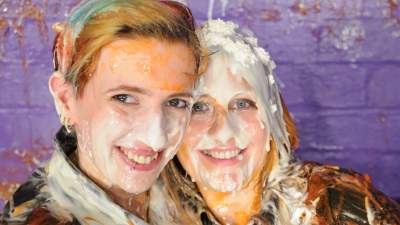 Starring the following model:
"Lily and Rosemary mess each other up in flightsuits"
| | |
| --- | --- |
| File count: | 8 |
| Total size: | 2 GB |
| Total runtime: | 55 mins, 27 secs |
| Date added: | 9/28/17 |
| Year produced: | 2016 |
| Product ID: | gm-2f218 |
| Views: | 2172 |
| Scene ID: | 22281 |

$15.00
Two very willing women dressed in flightsuits and boots, a table full of a variety of mixed gunge--two very messy wenches ahead!

For each round the winner gets to pour the mess of her choice over, or into the clothes of, the loser. Lily soon has several cans of soup flowing down inside the front of her suit, from where it starts to leak out into the tray she's sitting in, but she soon gets her own back and Rosemary's outfit starts to suffer too. Both girls are sitting in trays to catch the dripping mess and collect it as a pool for them to sit in.

Steadily they tip more and more mess over each other, all the time enjoying the sensations as their outfits succumb to the tide of soup, beans, custard and spaghetti. Heads aren't spared, Lily's technicolour locks, and Rosemary's lovely long red hair, get their own drenching and coating in goo, and both girls get creamy messy facials too.

Technical: With this download you get the main messy scene, 40 minutes long, in three parts, plus a separate 13 minute hose-down wash-off video. All videos have full original sound throughout, and are tripod shot for a rock-steady picture, with the scene carefully framed to ensure you can see every detail of the messings. All videos are full-hd. You also get over a thousand very high-res photos of the messy action shot on a professional Nikon digital slr camera. During the hosedown video both girls first wash the worst of the mess off their flightsuits, then remove them to reveal the swimsuits they are wearing underneath, and get hosed down in those too.
Includes these files:
gm-2f218-part-1.zip

3216x2136

Zip file of 300 photos

946.59 MB

sizes may vary
gm-2f218-part-2.zip

3216x2136

Zip file of 278 photos

945.21 MB

sizes may vary
gm-2f218-part-3.zip

3216x2136

Zip file of 257 photos

944.41 MB

sizes may vary
gm-2f218-part-4.zip

3216x2136

Zip file of 202 photos

721.74 MB

sizes may vary
gm-2f218-v1a-savoury-flightsuits-p1.mp4

1920x1080

4,843 Kbps

483.55 MB

14.0 minutes
gm-2f218-v1b-savoury-flightsuits-p2.mp4

1920x1080

7,170 Kbps

702.73 MB

13.7 minutes
gm-2f218-v1c-savoury-flightsuits-p3.mp4

1920x1080

9,214 Kbps

935.93 MB

14.2 minutes
gm-2f218-v2-the-hosedown.mp4

1920x1080

9,347 Kbps

909.64 MB

13.6 minutes

Report