| | |
| --- | --- |
| The Blue And Green Treacle Show! | |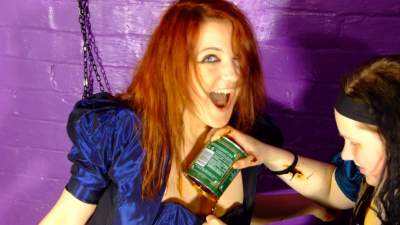 Starring these models:
"Morgana comes to play!"
| | |
| --- | --- |
| File count: | 4 |
| Total size: | 2 GB |
| Total runtime: | 59 mins, 24 secs |
| Date added: | 4/21/12 |
| Year produced: | 2010 |
| Product ID: | gm-2f49 |
| Views: | 6631 |
| Scene ID: | 3722 |

$9.00
First encountered at a mysterious castle in Western Argyll, the wild Morgana has followed the household back to the high moors of Yorkshire, to the very doors of this ancient Hall, and invited herself in to play in the dungeon, with Nurse Wendy-Household as a willing playmate.

Dressed to the nines in finest formalwear, these two beautiful women spend a wonderfully happy afternoon gradually reducing each others' lovely outfits to sweet, sticky ruin, dresses filled and coated in slow-flowing gunge.

Morgana starts out with a bolero jacket over her fabulous strapless silk dress, and keeps it on while the first cans of treacle are poured down her cleavage to fill the front of the dress, but then removes it to have her bare shoulders coated in treacle. Later on, she has the back of her dress filled too, at her own request. "Isn't it every girl's dream to get dressed up in your best dress and then just totally cover it in mess?", as she playfully commented beforehand!

Wendy is dressed to impress in a beautiful long green evening dress. Which soon succumbs, as her front is filled, syrup overflowing down the front to collect in her lap, where it's soon joined by several more cans poured straight onto the skirt of the dress!

Both ladies end up with their dresses absolutely saturated in gunge, and you'll never have seen anyone as happy to be having her dress filled with goo as Morgana is when she takes her first can of treacle down her front in this scene!

This download includes over one thousand, three hundred photos of the two girls messing each other up, plus a forty seven minute video of the messy session, you also get a small collection of photos, and twelve minutes of video of the hose-down clean-up, both girls still wearing their treacle and syrup-soaked dresses, Morgana even puts her bolero jacket back on while being hosed down. Note that due to copyright music playing in the background when we filmed this scene, there is no sound on the videos.

Report
Includes these files:
gm-2f49-v1-the-blue-the-green-and-the-black.divx

720x400

1,305 Kbps

441.26 MB

47.3 minutes
gm-2f49-v2-the-hosedown.divx

720x400

1,305 Kbps

113.36 MB

12.1 minutes
gm-2f49.zip

2592x1944

Zip file of 1380 photos

1.49 GB

sizes may vary
gm-2fx49.zip

2592x1944

Zip file of 46 photos

46.73 MB

sizes may vary
Free picture gallery:
.