| | |
| --- | --- |
| The Wild Green Cola Queen! | |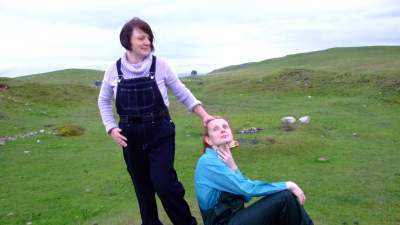 Starring these models:
"Lady Amaranth has her dungrees filled with fizz, outdoors!"
| | |
| --- | --- |
| File count: | 3 |
| Total size: | 334.1 MB |
| Total runtime: | 6 mins, 26 secs |
| Date added: | 9/24/13 |
| Year produced: | 2012 |
| Product ID: | gm-2w48 |
| Views: | 5207 |
| Scene ID: | 7548 |

$5.00
She's had quite a few of these fizzy soakings and keeps coming back for more! This time she's dressed in green dungarees, green wellies, and a green shirt, and the Hall's cook, Evelyne, took her out onto the Chase beyond the house for a thorough dowsing. Though it was sunny and warm when they left the house, the weather changed, as it often does up on these moors, and Evelyne was willing to allow Lady A to stay dry, but she said no, she'd spent all morning in her chosen outfit looking forward to her saturation, and wasn't going to be satisfied until she had been thoroughly drenched in it!

So in went the cola and our Amaranth got very fizzy indeed!

Technical notes: This download includes two video files, the original DivX version that was originally released, and an all-new MP4 version, remastered from the original master edit. While not HD (the master was shot on an SD camera), the MP4 version is significantly larger and gives good views of the detail of the scene. Both edits are identical, the video is very tightly cut to focus entirely on Evelyne pouring the cola all over Lady Amaranth, with all the gaps and pauses between bottles removed. So the result is only three minutes long but is more or less three minutes of continuous WAMming, as bottle after bottle goes into and over Lady Amaranth's clothes. The first two pours in particular show the wetness flooding through her initially dry clothes as the cola is poured in.

The trailer gives a good idea what the scene contains, in the full version each bottle pour is included in full. Note there is no sound on the videos.

Report
Includes these files:
gm-2w48-part-1.zip

2592x1944

Zip file of 191 photos

198.75 MB

sizes may vary
gm-2w48-v1-the-wild-green-cola-queen.divx

720x400

1,305 Kbps

30.09 MB

3.2 minutes
gm-2w48-v1-the-wild-green-cola-queen.mp4

1280x720

3,883 Kbps

89.54 MB

3.2 minutes
Alternate version of gm-2w48-v1-the-wild-green-cola-queen.divx

Free picture gallery:
.