| | |
| --- | --- |
| Miss Pink's New Year's Eve Solo | |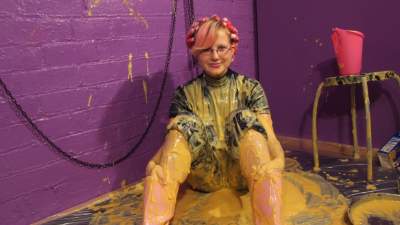 Starring the following model:
"Celebrating New Year the good old fashioned messy way!"
| | |
| --- | --- |
| File count: | 5 |
| Total size: | 1.09 GB |
| Total runtime: | 32 mins, 2 secs |
| Date added: | 10/25/11 |
| Year produced: | 2006 |
| Product ID: | gm-2f05 |
| Views: | 5988 |
| Scene ID: | 3025 |

$9.00
Miss Pink wears "Tickled Pink" pink rubber wellington boots, shiny black satin-finish trousers, and a high-neck, short-sleeved black velvet top. She thoroughly fills her boots and trousers, and covers her clothes all over!

New Year's Eve, 31st December 2006. We'd not been expecting to do any WAM up at the Hall this holiday, it'd been snowing since two days past Boxing Day and wolves from the Chase had been seen on the road over the high moors. But then December 31st dawned bright and clear, and even though Lady Jasmine was away down south, Miss Pink decided to ride up from the village, keeping her trusty shotgun handy just in case, and spend New Year's night itself at the Hall with various friends already gathered for the occasion. And of course to take advantage of the nice warm dungeon below the great house.

As she'd only just done her pink hair extensions, she decided to keep her head clean, but everything else, from neck to the soles of her lovely pink wellies, was to be saturated as only a Saturation Hall girl knows how.

She started with her boots, carefully filling them to the brim, wiggling her feet as they filled up to let any trapped air escape. Next, she pulled out the waistband of her lovely shiny black party trousers, and emptied three litres of custard down the inside, the thick yellow fluid flowing heavily down both legs and collecting where the trouser legs were tucked into her already-full boots.

Now it was time to take a seat, in a tray filled with more custard, leaving a perfect circle of yellow slime on Miss Pink's bottom and legs as she stood up again to inspect the damage. Then it was back down into the tray of mess she went, taking a large jug and pouring the contents all over her lap, using her bare hands to gently caress the mixture all over the remaining clean areas of her trousers until they were utterly drenched in yellow wetness. And then she did her top, too!

Some would have stopped there, but Miss Pink was in her element, down to the custard-covered floor she goes, rolling about, sliding, slithering, gathering the spilled custard in a pool in her legs, scooping up big double-handfuls to make custard-waterfalls down her front, sliding her still-filled boots off and pouring the contents over herself.

All good things must end, but not till every inch of Miss Pink's lovely outfit had been thoroughly and totally slimed. And then of course there was the long and careful warm water hose-down afterwards, pictures from which can be found in the second zipfile.

Welcome to 2007!

This package contains over 1000 messy photos, plus 158 hose-down shots (including Miss Pink standing, fully-dressed, in our knee-deep hosedown tub), plus 31 minutes of video in three sections: 1) boots filling, 2) trouser filling, tray-sitting, and covering, 3) all-over clothes gunging. Due to copyright music playing when they were recorded, the videos are silent.