| | |
| --- | --- |
| Veronica: PVC Gunge Queen! | |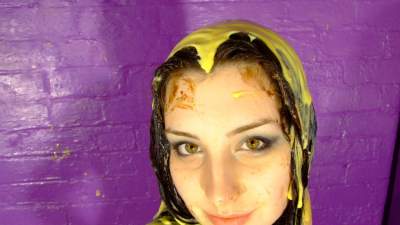 Starring the following model:
"Ms Ravenblack plays in shiny black"
| | |
| --- | --- |
| File count: | 3 |
| Total size: | 1.42 GB |
| Runtime: | 34 mins, 59 secs |
| Released: | 4/14/12 |
| Produced: | 2009 |
| Product ID: | gm-2f48 |
| Views: | 12165 |
| Scene ID: | 3721 |

$15.00
Dressed to thrill in a skintight shiny PVC catsuit, black PVC opera gloves, and big bad eighteen-hole Doc Marten boots, eyes wild and hair still damp from the rainstorm sweeping up Langstonedale, Veronica Ravenblack struts imperiously into the dungeon, and lays waste to herself with custard, gateaux, and cola.

She starts with gateaux, stuffing slice after slice down the inside of her catsuit till no more will easily fit in. And then she mashes one across her front, just for the hell of it. Custard is poured in next, flowing down inside and leaking out at the seams, and from her boots.

Next is lashings of custard down her front, before she prepares another gateaux, and plops her still-clean bottom down on it. Squelch! Swiftly followed with more custard over her hair and down her back while she's still sitting in her cake-and-custard filled catsuit on the mashed gateaux.

Self-pieing with a huge flan base filled with custard follows, and then she places a flan base on her head, like a crown, and fills it till the custard overflows over her hair and head.

By now she's completely coated in mess, inside and out, nevertheless more custard is poured on, and then she performs a series of poses and gymnastic exercises, all in the pool of spilled mess on the floor.

And as if that wasn't enough, eventually she douses herself in several large bottles of cola, too!

Technical: With this download you get over a thousand photos of Veronica filling and covering her catsuit, plus a twenty six minute video of the messing, and an eight minute video of the hosedown. Note there's no sound on the videos. The messing video is a mix of tripod shots and steady hand-held close-ups, for these we bring the camera in really close while leaving the lens zoomed out to wide angle, this gives steady, non-shakey, very-close-up shots of Veronica pouring litres of custard into her cleavage as she fills her catsuit. The hosedown video is entirely tripod-shot.