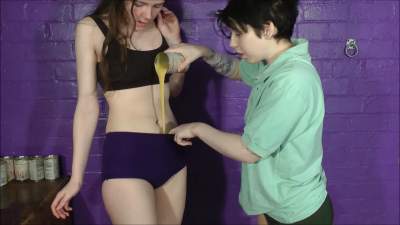 Starring these models:
"School Sports Uniform Splat-tacular!"
| | |
| --- | --- |
| File count: | 7 |
| Total size: | 2 GB |
| Runtime: | 38 mins, 3 secs |
| Released: | 6/15/15 |
| Produced: | 2013 |
| Product ID: | gm-2f146 |
| Views: | 17479 |
| Scene ID: | 14574 |

$15.00
Chastity, as the strict teacher, and Kitty, as the wayward student, indulge in some very messy schoolgirl role play in the dungeon!

The outfits: Both girls are dressed in regulation uniforms, Chastity as junior staff, in smart blue blouse and dark blue knee length uniform skirt, worn over dark blue gym knickers and a black sports bra, and Kitty as student, in short green box-pleated skirt and pale green polo shirt over green gym knickers and black sports bra. Kitty wears basketball boots, Chastity wears plimsolls.

The story: Kitty has been naughty, again. And got caught, again, too. So she must be properly punished, and Chastity is on punishment monitor duty this week.

What follows is an absolute orgy of mess, including both girls at different times removing their skirts, thoroughly filing each others gym knickers with custard, putting their clean skirts back on over the messy knickers, and then gunging their skirts too. Tops are filled, Chastity's sports bra, and her shoes, are filled, and they totally wreck each others' full outfits with custard.

Full messy shampoos are delivered too, the two girls simultaneously pouring custard over each other's heads.

At the end, they also empty full large buckets of water over each other's heads too.

After all, school rules is school rules!

Technical: This set includes over 700 high-res photos, and 25 minutes of messy video in two sections in which the girls completely gunge each other, and 13 minutes of hose-down in two videos, one for each girl. All four videos are in 1920 x 1080p Full-hd, and have all original sound throughout.
Includes these files:
gm-2f146-gymknickerseduction-part-1.zip

3216x2136

Zip file of 256 photos

956.79 MB

sizes may vary
gm-2f146-gymknickerseduction-part-2.zip

3216x2136

Zip file of 255 photos

954.04 MB

sizes may vary
gm-2f146-gymknickerseduction-part-3.zip

3216x2136

Zip file of 231 photos

922.74 MB

sizes may vary
gm-2f146-v1a-gym-knicker-seduction-part-1.mp4

1920x1080

6,024 Kbps

551.44 MB

12.8 minutes
gm-2f146-v1b-gym-knicker-seduction-part-2.mp4

1920x1080

8,147 Kbps

697.43 MB

12.0 minutes
gm-2f146-v2-the-hosedown-part-1-kitty.mp4

1920x1080

6,756 Kbps

255.93 MB

5.3 minutes
gm-2f146-v3-the-hosedown-part-2-chastity.mp4

1920x1080

7,977 Kbps

458.34 MB

8.0 minutes

Report