| | |
| --- | --- |
| Lady Rose's Messy Initiation | |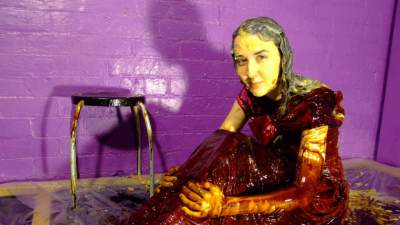 Starring these models:
"Formal Dress Filling Extreme!"
| | |
| --- | --- |
| File count: | 2 |
| Total size: | 1.28 GB |
| Date added: | 7/03/11 |
| Year produced: | 2008 |
| Product ID: | gm-2f35 |
| Views: | 8072 |
| Scene ID: | 2597 |

$5.00
Lady Rose, long-lost younger cousin of Lady Jasmine, has recently escaped from a wicked uncle's scheming plots to marry her off for money. But anyone who comes as a guest through these ancient doors of English Oak needs to be fully initiated into the household, and that means lots of gunge!

Conveniently enough, on the day of Rose's initiation, another experienced guest is lodging at the Hall, the wild, mysterious adventuress, Veronica Ravenblack.

Rose dresses carefully for the occasion, in a beautiful, brand new floor-length burgundy ball gown, with a simple bodice and lovely bow sleeves. Veronica decides to demonstrate the adult initiation ceremony of the legendary Guigui tribe. Rose takes a seat in the dungeon, and Veronica starts by pouring can after can of black treacle over Rose's bare shoulders, from where it flows down and into Rose's dress. A finger of treacle flows out from under the bow at the front, slips gently over Rose's left breast. Lots more treacle is poured in, and then in time-honoured tradition the silver tray is produced, and down Rose goes to sit in an inch of treacle. She remains sitting in goo while Ms Ravenblack pours golden syrup over her bare shoulders and back, sending even more deliciously messiness flowing down inside Rose's dress, filling the back completely until she can play with the syrup caught inside.

To finish, the custard is produced, a rare and valuable item to the Guigui people, and Veronica cuts Rose's hair band off to free her hair before a thorough and total custard shampoo, followed by a custard face-wash. And then Rose lies full-length on the messy floor.

Finally, Rose stands and poses for the camera, showing off her completely gunged dress, knowing that having been safely initiated into Lady Jasmine's household, she is forever safe from her clean-obsessed relatives. The second zip file contains the fully-dressed hosedown.

Note Veronica stays clean in this photoset--her turn comes in Rose's Revenge!
Includes these files:
gm_2f35.zip

2592x1944

Zip file of 1116 photos

1.11 GB

sizes may vary
gm_2fx35.zip

2592x1944

Zip file of 175 photos

173.65 MB

sizes may vary
Free picture gallery: