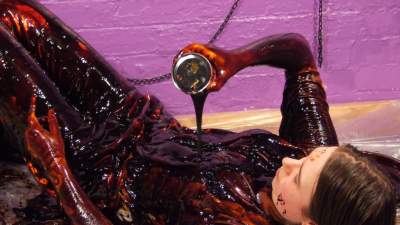 Starring the following model:
"A high-visibility uniform meets midnight black treacle!"
| | |
| --- | --- |
| File count: | 4 |
| Total size: | 857.55 MB |
| Total runtime: | 27 mins, 51 secs |
| Date added: | 12/24/09 |
| Year produced: | 2007 |
| Product ID: | gm-2f06 |
| Views: | 6947 |
| Scene ID: | 636 |

$9.00
Showing off Lady Jasmine's beautiful purple dungeon to the best possible effect, Maiden the Slave Girl spends a quiet afternoon dressed in railway industry high-visibility bright orange workwear, slowly coating herself in thick, sticky black treacle, in a scene that features clothes filling and sitting in a tray of gunge, and ends with Maiden's clothes and hair totally coated in black treacle, and good facial coverage too.

Maiden's outfit: * High-visibility rail industry orange polo shirt * High-visibility rail industry orange trousers * Black Caterpillar work boots The scene starts with Maiden showing off her outfit, including a matching jacket. She removes the jacket, and gets gunged in just the trousers, shirt, and boots.

She starts by filling her trousers with several cans of treacle, spilling some down the front in the process. You can clearly see the trunk area gradually bulging out as the trousers fill up inside, and there are close-up detail shots during the scene to show this. Maiden then puts her right arm into the filled trousers, coating her hand completely.

Next she fills the front of her polo shirt, pouring the treacle in at the unbuttoned neckline, again spilling some down the front in the process. Once she's emptied a few cans into her shirt she neatly buttons up the neck. While she fills her top, some of the treacle in her trousers finally flows down to her feet and runs out over her shoes; There are some shots showing this happening.

Now she prepares a large silver tray, filling it to an inch depth of treacle, which she then sits down in. At this point the back and bottom of her trousers are still completely clean, right up till her bottom meets the treacle. There are detailed shots of her sitting down, she then stands up again, showing her now treacle-coated bottom. Then she sits down again and gets totally covered in liquid black, clothes, hair, everything.

Technical: There is no sound on the videos of this scene, as we had copyright music playing in the background when it was filmed. The videos are tripod-shot for rock steady pictures, with the camera position adjusted between shots for best effect--there is a detailed close-up of Maiden sitting in the tray of treacle, then slowly standing up to reveal her treacle-soaked bottom, for example.
Includes these files:
gm_2f06.zip

2048x1536

Zip file of 868 photos

597.31 MB

sizes may vary
gm_2f06_v1_maiden_treacle_trouser_filling.divx

720x400

1,304 Kbps

68.7 MB

7.4 minutes
gm_2f06_v2_maiden_the_sit_and_full_coverage.divx

720x400

1,305 Kbps

136.89 MB

14.7 minutes
gm_2f06_v3_maiden_the_hosedown.divx

720x400

1,305 Kbps

54.65 MB

5.9 minutes

Report