| | |
| --- | --- |
| Finishing School Uniform Testing | |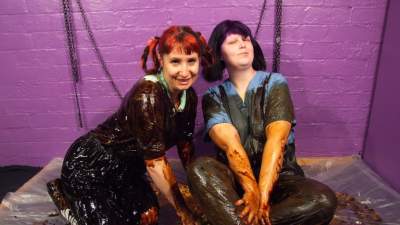 Starring these models:
"Lady Samantha puts a new uniform to the test!"
| | |
| --- | --- |
| File count: | 5 |
| Total size: | 865 MB |
| Total runtime: | 23 mins, 30 secs |
| Date added: | 10/11/11 |
| Year produced: | 2006 |
| Product ID: | gm-2f08 |
| Views: | 6059 |
| Scene ID: | 2974 |

$15.00
Lady Samantha gets totally gunged in a school sports uniform!

Lady Samantha wears bottle green box-pleat school sports skirt, pale green school polo shirt, white knee-high socks, and school shoes. Lady Full-Wellington wears pale blue medical scrubs and blue plastic surgery shoes.

Lady Jasmine's friend, Lady Samantha Smythington-Boots, a noted horsewoman, drops in at the Hall for a visit while out riding on the high moors. She volunteers, with Lady Full-Wellington's help, to gunge-test a new sports uniform for St. Sploshin's Finishing School for Girls, a fine institution to which generations of Lady Jasmine's family have been generous benefactors.

First, and off-camera at her request, to get in the mood, Lady Samantha has her gym knickers filled with custard, before putting on the rest of the outfit. We don't see the filling, but we do see the leaking custard dripping down her legs and onto her shoes.

Now the camera starts to roll, and we see Lady Samantha having her polo-shirt filled with treacle by Lady Full-Wellington, the latter dressed in pale blue medical scrubs.

Back and forth the gunging goes, Lady Samantha being slowly coated in thick black treacle, while Lady Full-Wellington's scrubs are filled and covered in a mix of treacle and custard. Samantha's green skirt ends up looking as though it's made of PVC, with a smooth, thick, even coating of treacle!

Towards the end of the set we see Lady Samantha, her entire outfit completely coated in thick, shiny, black, getting to work on Lady FW, including some lively close-ups of Lady Samantha's saturated skirt as she bends down to give her friend the full treatment.

By the end of the shoot the ladies have comprehensively proven the new sports uniform is fully gunge-worthy. On reading their report, Lady Jasmine ordered a full set for the entire school, where we are reliably informed the outfits have since been put through just about every kind of gunge imaginable. Perhaps at some point in the future Lady J will try one out herself?

Also included are 95 wetlook photos of the two women hosing each other down, still dressed in their gunge-drenched uniforms, at the end of the session.

Note: Due to music playing when the scene was recorded, there is no sound on the videos.