| | |
| --- | --- |
| Shiny Purple Catsuit Gunge | |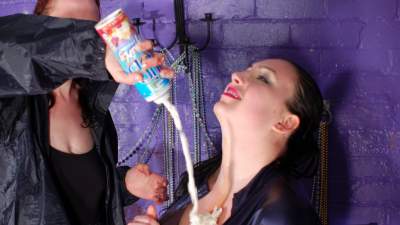 Starring these models:
"She starts out very shiny, and ends up very messy!"
| | |
| --- | --- |
| File count: | 4 |
| Total size: | 2 GB |
| Runtime: | 20 mins, 2 secs |
| Released: | 4/09/15 |
| Produced: | 2013 |
| Rating: | |
| Product ID: | gm-2f118 |
| Reviews: | 1 |
| Views: | 11750 |
| Scene ID: | 13781 |

$12.00
Oh dear. Veronica and Eliza are in trouble! They've been playing in the dungeon and not cleaning up after themselves. Lady Jasmine is not amused, and has ordered them to carry out a self inflicted punishment. They must dress in their own best suits, and totally gunge each other! Veronica wears a skin tight purple vinyl catsuit, with shiny Union jack wellies, while Eliza wears a practical waterproof rainsuit, with blue and white stripy wellies. We're not entirely sure if Eliza's railwear actually counts, though it is a suit, but nevertheless, the gunge must flow.

This scene is Part 1, Gunging Veronica. She starts by pouring some golden syrup down inside her catsuit, followed by filling her wellies with custard. The boots are partially transparent, and we can see some of the custard flowing down inside them. Veronica carries on messing herself up, and is then joined by Eliza who helps with things like gunge down the back of Veronica's catsuit, giving her a custard and treacle shampoo, and helping Veronica with a delicious cake-sitting into a nice squishy strawberry gateaux.

Veronica ends up coated from head to toe in mixed mess, and thoroughly enjoys getting messy. Eliza stays mostly clean for this scene, but don't worry, she'll be getting the full treatment herself soon enough!

Technical: This scene has full original sound throughout, and is filmed up close and personal, with lots of good, clear, steady shots of the unfolding mess.