| | |
| --- | --- |
| Lady Jasmine and Lady Lucinda | |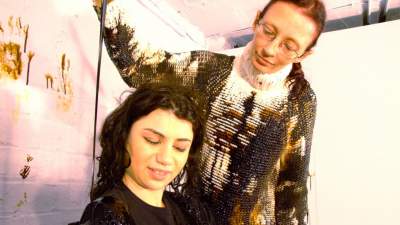 Starring these models:
"A visitor gets the treatment from her ladyship herself!"
| | |
| --- | --- |
| File count: | 5 |
| Total size: | 2 GB |
| Total runtime: | 31 mins, 26 secs |
| Date added: | 9/18/12 |
| Views: | 5465 |
| Scene ID: | 4768 |

$7.50
Lucinda de Avingon is back for a fresh gunging!

Country casuals form the theme this time, with Lady Lucinda in black combats and black designer t-shirt, while Lady Jasmine wears her classic working rig of jeans and a while roll-neck jumper. Both ladies complete their outfits with some nice rubber boots.

First, bringing those boots to the fore, Lady Jasmine has both her wellies filled with cola. She reciprocates by filling Lady Lucinda's trousers with custard, before sitting and allowing her guest to give her the treacle treatment, Jasmiine looking on calmly as first her jeans, and then her jumper, are reduced to sticky ruin at Lucinda's hands.

Then it's Lucinda's turn to get the treacle treatment, her combats soon drenched in shiny dripping black.

They take turns to bend over the chair and pour custard over each other's bottoms, before Lady J has the back of her jumper totally drenched in syrup, while Lucinda's t-shirt gets the same treacle treatment already applied to her combats.

Both ladies end up well coated in goo, and finish off by pouring cola over each other, just as things should be on a country estate in high summer.

Technicals: This download includes over 800 photos of the messy session, another 300 photos of the two girls hosing each other down, still fully-clothed, plus 31 minutes of video of the messy session. Due to incorrect camera settings, the photos have a slight colour cast, the price has been reduced to reflect this. The video is unaffected and has entirely natural colours.