| | |
| --- | --- |
| Swimsuit Catsuit (Mature) | |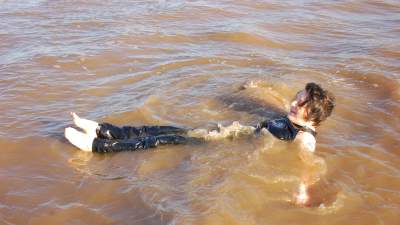 Starring the following model:
"Our cook, swimming in the sea in her favourite PVC outfit"
| | |
| --- | --- |
| File count: | 2 |
| Total size: | 1.47 GB |
| Runtime: | 6 mins, 54 secs |
| Released: | 12/29/15 |
| Produced: | 2013 |
| Product ID: | gm-2w65 |
| Views: | 2821 |
| Scene ID: | 16538 |

$6.00
Watch Evelyne the Saturation Hall Cook wading into the North Sea, paddling, lying down in the waves, and going for a swim through the water, all while dressed in a sleeveless PVC catsuit, with bare feet.

Evelyne absolutely loves the seaside, and any trip to the beautiful beaches of the East Coast, out beyond Marsh House, have to involve going into the sea for a paddle. But being a Saturation Hall girl through and through, she doesn't really approve of modern swimsuits. Those are fine for wearing as underwear under a nice gunge outfit, or even as playwear in the dungeon, but when going into the sea in public, she can't help thinking people really should wear just a bit more. So her favourite swimwear is her sleeveless PVC catsuit! Ideal to wear both in the water and on the sand, the shiny black surface looks equally good wet or dry, and the wetsuit-like effect of the water it traps helps keep warm on a typically breezy British beach.

Evelyne, who was in her mid 40s when this set was shot, has been Cook at Saturation Hall for many years, and is mistress of all she surveys below stairs. Between them, she and Prudence the housekeeper effectively run the household.

Technical: The video for this scene mostly has original ambient sound, with wind, waves, and occasionally the bass beat from a music festival which was being held a few miles away. In a few places where there were loud comments or instructions from the director, the sound has been muted, although this has been kept to a minimum. The video is in 1920 x 1080p Full HD, and is just under seven minutes long.
Includes these files:
gm-2w65-part-1.zip

3008x2000

228 photos

573.26 MB

sizes may vary
gm-2w65-v1-evelyne-the-cook-in-the-sea-in-pvc.mp4

1920x1080

18,894 Kbps

934.58 MB

6.9 minutes

Report