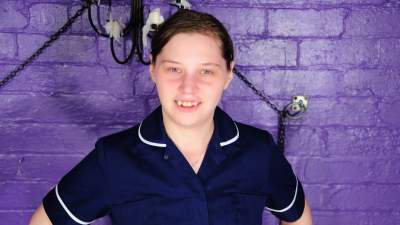 Starring the following model:
"Nurse Wendy fills her swimsuit, and her uniform, with mess!"
| | |
| --- | --- |
| File count: | 5 |
| Total size: | 2 GB |
| Runtime: | 26 mins, 19 secs |
| Released: | 2/28/18 |
| Produced: | 2015 |
| Product ID: | gm-2f181 |
| Views: | 1658 |
| Scene ID: | 24554 |

$12.00
Nurse Wendy is dressed for messy action, wearing her dark blue uniform tunic and trousers over a black swimsuit, and with blue wellington boots worn over black socks on her feet. She's definitely getting messy today!

She starts by showing off her full outfit, letting us have good views front and back. Then, she takes off her tunic, poses again in her swimsuit, uniform trousers, and wellies, and then takes off the wellies and trousers. And then she starts to fill her plain black swimsuit with cream and custard. Cream first down the front, followed by a large carton of custard, then more custard down the back, until the lower part of the suit turns yellow and custard is dripping from the suit and flowing down both her legs.

Then she puts her clean uniform back on over her filled swimsuit and custard-coated legs, trousers first, pulled up and neatly buttoned and zipped, wellies back on, and then her tunic slipped over her head and zipped neatly up. Now she's once again all neatly uniformed--except that the inner thighs of her trousers are rapidly darkening as the wetness of the custard soaks through them from inside. She lets us enjoy her steadily wetting trousers for a moment, and then grabs more custard, unzips her tunic a little, and starts filling her swimsuit again. She keeps going until custard is not only leaking through her trousers from inside but also flowing out from under her tunic and down the outside too. Then she starts pouring more custard just into her tunic, front and back, before eventually just pouring custard all over the outside of her outfit too.

All the way through Wendy is thoroughly enjoying her messy situation, from the first pours into her swimsuit to the end of the scene where she's drenched from head to feet in mess with her entire outfit saturated in goo.

Technical: There is full original sound in this scene.
Includes these files:
gm-2f181-part-1.zip

3216x2136

265 photos

945.26 MB

sizes may vary
gm-2f181-part-2.zip

3216x2136

260 photos

947.55 MB

sizes may vary
gm-2f181-part-3.zip

3216x2136

163 photos

632.43 MB

sizes may vary
gm-2f181-v1-nurse-wendy-custard-uniform.mp4

1920x1080

5,527 Kbps

724.63 MB

18.3 minutes
gm-2f181-v2-uniform-hosedown.mp4

1920x1080

8,327 Kbps

476.86 MB

8.0 minutes

Report