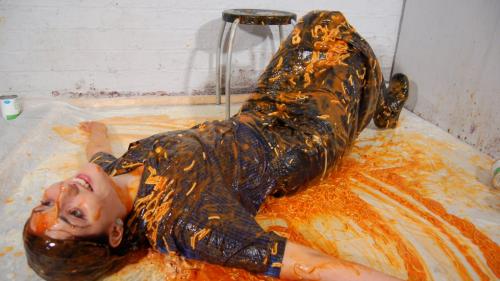 Starring the following model:
"Maude gives her uniform the eggs and beans treatment"
| | |
| --- | --- |
| File count: | 3 |
| Total size: | 2 GB |
| Total runtime: | 19 mins, 44 secs |
| Date added: | 6/07/15 |
| Year produced: | 2011 |
| Product ID: | gm-2f98 |
| Views: | 5647 |
| Scene ID: | 14516 |

$9.00
Here at Saturation Hall it is regarded as very important that all members of the household regularly gunge test their working clothes, just to be sure. There's nothing quite like the morale boost that comes from knowing, from detailed personal experience, just exactly how your skirt will perform when faced with a deluge of gooey mess.

Which is why Maude the Chamberwench is all smartly dressed in her everyday household working uniform of knee length navy blue uniform skirt, blue check shirt, and plain black leather boots, and very much looking forward to the large quantities of raw eggs, chopped spaghetti, and tomato soup she is about to pour all over herself.

Eggs come first, neatly dropped into the pocket of her shirt, and then placed, whole, into the pockets of her skirt, where she then breaks them from outside, releasing a tide of yolk and white inside her pristine outfit, which doesn't stay pristine for long. As she breaks the eggs in her pockets you get to see the contents splash up, as shown in the trailer. More eggs go down inside the front of her shirt, to collect and slosh about at her waistband, before a final couple of eggs go over her head for luck.

Soup next, poured with great splashes into her lap, drenching her skirt and splattering over her egg-wet-shirt too.

And then the spaghetti is added to the mix, great dollops of it poured all over Maude's outfit, and shampooed into her lovely hair.

Technical: Due to crew chatter, there is no sound on the video. All of the action is shown in detail and you get to see Maude's skirt getting the full treatment as well as her upper half. There's also a detailed focus on her really messing up her leather boots by hand.

The hosedown section of this scene was shot on still photos. Maude takes her shirt off part way through this section so she ends the hosedown in a soaking wet black spaghetti-strap swimsuit and soaking wet uniform skirt. She keep her boots on throughout. The final 80 photos show the hosedown.
Includes these files:
gm-2f98-part-1.zip

3008x2000

Zip file of 390 photos

946.25 MB

sizes may vary
gm-2f98-part-2.zip

3008x2000

Zip file of 293 photos

687.53 MB

sizes may vary
gm-2f98-v1-strictly-savoury-maude.mp4

1920x1080

5,298 Kbps

747.84 MB

19.7 minutes

Report