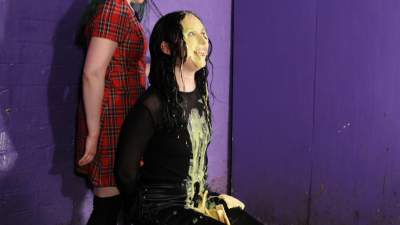 Starring these models:
"Honeysuckle and Rosemary mix Pi with Pie"
| | |
| --- | --- |
| File count: | 7 |
| Total size: | 2 GB |
| Total runtime: | 36 mins, 2 secs |
| Date added: | 9/13/17 |
| Year produced: | 2016 |
| Product ID: | gm-2g014 |
| Views: | 2152 |
| Scene ID: | 22087 |

$15.00
Honeysuckle likes pie. She also likes Pi, to the point that she's memorised the first 100 digits after the decimal point. And now, with Rosemary's help, she's mixing the two.

Beautifully-dressed in black shiny satin-finish lace-side jeans, black mesh see-through top over a black swimsuit, and wonderful calf-high black rubber / suede boots with fluffy tops, Honeysuckle sits down on a chair in the dungeon and starts to recite Pi. At which point Rosemary, in red check mini-dress and knee-high black stockings, plants a nice squishy pie in Honeysuckle's face. This is repeated several times, with more and more pie residue dripping and flowing down to collect in Honeysuckle's lap. Those pristine satin jeans are soon getting rather messy!

After a while the recitation of Pi is abandoned and Rosemary sets about destroying an all too willing Honeysuckle with yellow and pink gunge, including having her sit in trays full of goo and pouring streams of it inside her see-through top so we can watch it flow down within.

Honeysuckle's lovely long black hair isn't spared either, the areas of her hair that weren't messed up by the pies get a very thorough drenching in carefully poured gunge before Rosemary has finished with her.

Eventually Honeysuckle has been reduced to a wet and gooey mess from her head to her feet, and those fancy boots don't escape the treatment either. Meanwhile Rosemary remains pristine and untouched by so much as a splash of gunge. Clearly this state of affairs can't remain, so she willingly submits while Honeysuckle gets her own back, which she does with merry abandon.

By the end of the scene both girls are utterly drenched in mess from head to toe.

Technical: There is full original sound on all the videos. With this download you get the 27 minute main messy scene in two parts, plus a short video of the two girls, covered in mess, receiving multiple buckets of water thrown over them full-force from off-camera, and then a video of the hose-down clean up. You also get 899 high-res photos of the messy section of the scene. The videos and photos are shot to ensure you can see all the action, including the mess dripping down and collecting in Honeysuckle's lap as she is pied.
Includes these files:
gm-2g014-part-1.zip

3216x2136

Zip file of 319 photos

946.96 MB

sizes may vary
gm-2g014-part-2a.zip

3216x2136

Zip file of 313 photos

946.33 MB

sizes may vary
gm-2g014-part-3.zip

3216x2136

Zip file of 267 photos

803.63 MB

sizes may vary
gm-2g014-v1a-meaning-of-pi-part1.mp4

1920x1080

8,401 Kbps

854.28 MB

14.2 minutes
gm-2g014-v1b-meaning-of-pi-part2.mp4

1920x1080

7,836 Kbps

732.67 MB

13.1 minutes
gm-2g014-v2-the-buckets.mp4

1920x1080

8,763 Kbps

66.37 MB

1.1 minutes
gm-2g014-v3-the-hosedown.mp4

1920x1080

8,096 Kbps

447.62 MB

7.7 minutes

Report
Similar scenes
25 min

5 files

21 min

5 files

27 min

5 files

13 min

5 files

14 min

4 files

11 min

29 min

4 files

15 min

3 files

23 min

5 files

12 min

2 files

11 min

13 min

3 files

55 min

8 files

45 min

9 files

35 min

4 files

28 min

5 files

11 min

2 files

18 min

4 files

2 files

29 min

3 files

5 min

6 files