| | |
| --- | --- |
| 2 Girl Uniform Mess Fest! | |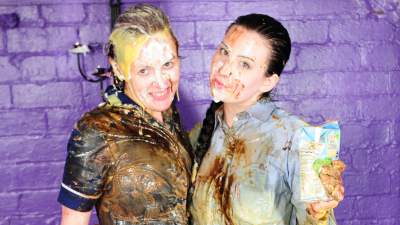 Starring these models:
"Veronica and Eliza cover each other's uniforms with food"
| | |
| --- | --- |
| File count: | 4 |
| Total size: | 2 GB |
| Total runtime: | 24 mins, 2 secs |
| Date added: | 10/29/17 |
| Year produced: | 2013 |
| Product ID: | gm-2f164 |
| Views: | 2221 |
| Scene ID: | 24486 |

$12.00
Veronica wears a dark blue knee length uniform skirt with pockets, a pale blue blouse, and green wellies, while Eliza wears a dark blue hospital cleaner's dress, and white lace-up plimsolls. They are supposed to be cleaning up the dungeon after their previous epic waterproofs set, however they decide just to totally gunge each other all over again for the fun of it.

Veronica's skirt suffers first, as both pockets are filled with gateaux and custard, but Eliza's dress soon starts to feel the mess too. They take turns messing each other up, and the action includes Eliza having her dress opened at the front so Veronica can drench the swimsuit Eliza is wearing beneath with custard before neatly doing her dress back up again--and then repeating the opening and drenching while Eliza stands over a gateaux, so all the custard dripping out of her dress flows on to it--which Veronica then sits on. Needless to say later on Eliza also ends up sitting in mess--and in her case, after she's well messed the back of her dress, she pulls it up and sits her unprotected swimsuit bottom into the mess too. There's lots of laughing and reaction from both of them all through the scene as the mess is poured on.

Features include: Clothes filling, cake sitting, mess pouring and spreading, messy shampoos, and cold milk dumped both into their clothes and over their heads as a finale.

By the end of the scene both girls are totally drenched in mess, from head to toe, including full hair and face coverage.

Technical: The videos have full original sound throughout.
Includes these files:
gm-2f164-part-1.zip

3216x2136

Zip file of 266 photos

944.8 MB

sizes may vary
gm-2f164-part-2.zip

3216x2136

Zip file of 178 photos

701.64 MB

sizes may vary
gm-2f164-v1a-veronica-and-eliza-clean-up-p1.mp4

1920x1080

7,708 Kbps

639.06 MB

11.6 minutes
gm-2f164-v1b-veronica-and-eliza-clean-up-p2.mp4

1920x1080

10,574 Kbps

942.78 MB

12.5 minutes

Report