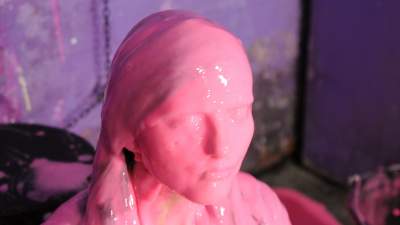 Starring the following model:
"Maude fills and gunges genuine American Apparel disco pants"
| | |
| --- | --- |
| File count: | 7 |
| Total size: | 2 GB |
| Total runtime: | 43 mins, 24 secs |
| Date added: | 2/22/17 |
| Year produced: | 2016 |
| Product ID: | gm-2g007 |
| Views: | 6410 |
| Scene ID: | 21394 |

$15.00
Genuine American Apparel disco pants, designed, cut, and sewn in Los Angeles, California, USA. The original and spectacurlarly sexy high waist figure shaping shiny fabric pants. What could be better to be comprehensively gunged in?

Maude dons a pair of forest green American Apparel disco pants over a mid-sleeve black Spandex dance leotard, and adds transparent ankle boots and a thin shiny black jacket to complete the ensemble. And then she gives herself a really, really thorough gunging!

Cream first, or to be accurate Devon Dream, carefully poured in to fill her disco pants, first down the front and then down the back too. The creamy fluid flows down inside the pants and soon leaks through to the outside, especially down her legs, and then at her bottom as she fills the back. Custard soon joins the cream, full cartons poured in front and back. She jigs and dances in her well-filled trousers, revelling in sensation as the thick creamy liquids flow down inside and out.

Later on she adds bright pink gunge to the mix, steadily getting messier and messier, her leotard and jacket get the treatment, her boots get taken off, filled, and put back on, and ultimately her hair and face get the full treatment too, until she's an unrecognisable gunged blob, totally coated from head to toe in custard and cream and pink gunge.

Outfit info: Yes, these are genuine original disco pants, bought direct from the American Apparel website, not the cheap copies you sometimes see in discount shops. They survived their gunging and washed out beautifully too.

Technical: With this scene you get five videos, the main messy scene, then Maude, fully-dressed and covered in gunge, sitting on a stool and being deluged by buckets of water, and the finally the fully-clothed hosedown. All videos have full original sound. There is also a high-resolution photoset of the main gunging.
Includes these files:
gm-2g007-part-1.zip

3216x2136

Zip file of 317 photos

944.64 MB

sizes may vary
gm-2g007-part-2.zip

3216x2136

Zip file of 305 photos

944.79 MB

sizes may vary
gm-2g007-part-3.zip

3216x2136

Zip file of 327 photos

945.01 MB

sizes may vary
gm-2g007-part-4.zip

3216x2136

Zip file of 19 photos

58.45 MB

sizes may vary
gm-2g007-v1a-maude-american-apparel-disco-p1.mp4

1920x1080

3,874 Kbps

263.37 MB

9.5 minutes
gm-2g007-v1b-maude-american-apparel-disco-p2.mp4

1920x1080

4,782 Kbps

393 MB

11.5 minutes
gm-2g007-v1c-maude-american-apparel-disco-p3.mp4

1920x1080

4,373 Kbps

320.53 MB

10.2 minutes
gm-2g007-v2-maude-disco-pants-buckets.mp4

1920x1080

7,756 Kbps

62.47 MB

1.1 minutes
gm-2g007-v3-maude-disco-pants-hosedown.mp4

1920x1080

6,490 Kbps

513.93 MB

11.1 minutes

Report