| | |
| --- | --- |
| Pink Gunge Spandex Shorts | |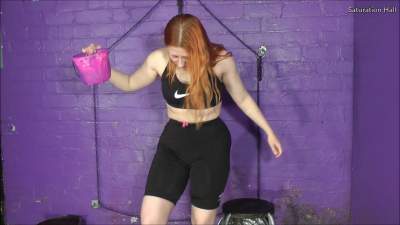 Starring the following model:
"Rosemary fills her workout gear with goo"
| | |
| --- | --- |
| File count: | 4 |
| Total size: | 2 GB |
| Runtime: | 14 mins, 26 secs |
| Released: | 10/11/17 |
| Produced: | 2016 |
| Product ID: | gm-2g005 |
| Views: | 2418 |
| Scene ID: | 24529 |

$15.00
Rosemary shares her workout with us, complete with workout gunge!

Dressed in just tight Lycra running/cycling shorts and a Nike sports-bra top, and with no underwear, Rosemary first goes through a series of exercises designed to really show off her rather sexy workout clothes, and then she adds bright pink gunge to her routine. Feeling that her shorts are alltogether too dry against her skin, she pours pink gunge down inside he front, sighing with pleasure as the gloop flows down between her skin and the Lycra. Loving the feelings as the wetness spreads, she wastes no time in pouring lots more gunge in while continuing to bend and stretch, and soon her shorts are utterly drenched in bright pink slime.

Her bra-top gets the treatment next, and it too is drenched in gunge. Her bare feet get the full treatment, and then it's the turn of her long red hair to be completely drenched in pink goo, and she pours it all over her face too. By the end of the routine she is utterly drenched in gunge from head to toe.

She calls out to Jeeves, the butler, for some water, and from off camera he delivers--several full buckets thrown full force over her!

Technical: These videos have full original sound. In addition to the videos you also get 500 very high-res photos taken on a professional Nikon camera.
Includes these files:
gm-2g005-part-1.zip

3216x2136

Zip file of 328 photos

944.64 MB

sizes may vary
gm-2g005-part-2.zip

3216x2136

Zip file of 138 photos

396.89 MB

sizes may vary
gm-2g005-v1-rosemary-lycra-shorts-pink-goo.mp4

1920x1080

7,403 Kbps

693.5 MB

13.1 minutes
gm-2g005-v2-rosemary-gets-the-buckets.mp4

1920x1080

9,101 Kbps

88.26 MB

1.4 minutes

Report