| | |
| --- | --- |
| Felicity Chained Up and Hosed Down | |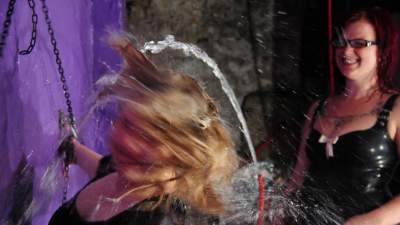 Starring these models:
"Miss Pink gets her revenge!"
| | |
| --- | --- |
| File count: | 3 |
| Total size: | 1.68 GB |
| Total runtime: | 7 mins, 43 secs |
| Date added: | 3/30/17 |
| Year produced: | 2015 |
| Product ID: | gm-2w103 |
| Views: | 2942 |
| Scene ID: | 21956 |

$12.00
A while back Felicity had to punish Miss Pink for her behaviour, which she acomplished by chaining the errant barmaid, dressed in an all-latex outfit, to the dungeon wall and hosing her down with cold water. However, we have a long tradition of fainess in these parts, so once it was felt that suitable punishment had been delivered, Felicity volunteered to be chained up herself and suffer the same fate. Except that as Felicity's front had already been well drenched with stray buckets during the punishment of Miss Pink, she had herself chained up facing the wall so her still-dry back would feel the water's touch first!

Felicity wears a fetching shiny ensemble of a silky party dress, tight shiny grey leggings, and leather boots, and receives a very thorough drenching from Miss Pink, still dressed in her wet latex. Miss Pink alternates between high and low pressure jets of water from the hose, and plays the water all over Felicity's outfit and hair, she also puts the jet down inside Felicty's dress at one point.

Particular attention is payed to Felicity's lovely long blonde hair, which is soon reduced to a mass of wet strands.

Technical: This video has full original sound and you can enjoy Felicity's squeals as the cold water does its work. The video shows the entire hose-down with Felicity chained to the wall, the photoset also includes shots of Miss Pink chaining Felicity up beforehand.

Report
Includes these files:
gm-2w103-part-1.zip

3216x2136

Zip file of 308 photos

945.21 MB

sizes may vary
gm-2w103-part-2.zip

3216x2136

Zip file of 81 photos

254.15 MB

sizes may vary
gm-2w103-v1-felicity-chained-and-hosed.mp4

1920x1080

9,494 Kbps

524.59 MB

7.7 minutes
.