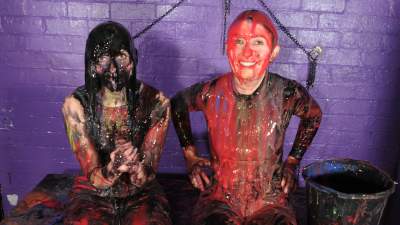 Starring these models:
"Maude and Honeysuckle get very messy fully-clothed!"
| | |
| --- | --- |
| File count: | 7 |
| Total size: | 2 GB |
| Runtime: | 30 mins, 12 secs |
| Released: | 12/20/17 |
| Produced: | 2016 |
| Product ID: | gm-2g033 |
| Views: | 3400 |
| Scene ID: | 24213 |

$15.00
Maude, dressed all in pink, gets drenched in black gunge by Honeysuckle, who is herself all dressed in black and expects to get away competely clean. Except things never really work out that way round here and once she's totally drenched Maude, Honeysuckle finds her own outfit being filled with bright yellow goo too!

Maude wears: Bright pink cotton jeans, bright pink sleeveless top, transparent ankle boots.

Honeysuckle wears: Shiny black satin finish jeans, skin tight long sleeve black Spandex top, black leather high heeled knee-high boots.

As well as liberally filling each other's clothes with gunge, the two women lie each other down on the table for full buckets of gunge poured on. Maude's bright pink outfit gets totally drenched in black and blue gunge, Honeysuckle's smart black clothes and boots get drenched in red and yellow gunge. Initially they completely wreck each other's clothes and boots, Maude having her entire outfit drenched by still-clean Honeysuckle before the tables are turned, then Honeysuckle's entire outfit is drenched, and then together, covered in goo from the neck down, they set about each other's heads and hair with even more gunge.

Both girls end up totally drenched in mess from head to toe.

Technical: All the videos in this scene have full original sound and you also get a high-resolution photoset shot on professional camera equipment.
Includes these files:
gm-2g033-part-1.zip

3216x2136

294 photos

945.53 MB

sizes may vary
gm-2g033-part-2.zip

3216x2136

293 photos

945.87 MB

sizes may vary
gm-2g033-part-3.zip

3216x2136

270 photos

945.14 MB

sizes may vary
gm-2g033-part-4.zip

3216x2136

235 photos

791.97 MB

sizes may vary
gm-2g033-v1a-the-pink-and-the-black-p1.mp4

1920x1080

5,197 Kbps

466.76 MB

12.6 minutes
gm-2g033-v1b-the-pink-and-the-black-p2.mp4

1920x1080

8,252 Kbps

600.35 MB

10.2 minutes
gm-2g033-v1c-the-pink-and-the-black-p3.mp4

1920x1080

9,759 Kbps

522.71 MB

7.5 minutes

Report