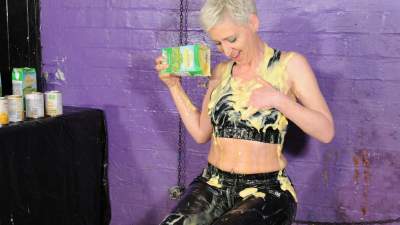 Starring the following model:
"Susie fills her running trousers and sports bra with syrup and custard!"
| | |
| --- | --- |
| File count: | 5 |
| Total size: | 2 GB |
| Runtime: | 32 mins, 2 secs |
| Released: | 2/19/18 |
| Produced: | 2017 |
| Product ID: | gm-2f227 |
| Views: | 2095 |
| Scene ID: | 24900 |

$15.00
Meet Susie, stable hand, professional dominatrix, and gunge fan! Here we see her in her exercise gear, tight fitting black running trousers, sports bra, and black basketball boots, her trousers worn with no underwear, thoroughly filling her clothes and covering herself in lots and lots of custard and syrup.

Down her tight-fitting trousers goes the custard, lots down the front and then more down the back. If flows out and covers her black Converse-style boots, which we see some detailed views of. Next, she pours golden syrup into her sports bra, well filling it while syrup leaks down her bare front and onto her custard-filled trousers.

Her hair doesn't escape, as she gives herself a very thorough custard shampoo and then covers herself completely in yellow mess. After which she climbs into our tin bath as it fills with water around her and has a nice relaxing soak in custard-water! During her bath she takes her shoes off to let us see her bare feet, which get dunked in the water, and she also raises and lowers herself several times so we can watch her tight-fitting soaking wet trousers going in and out of the yellow water.

Technical: The videos for this scene have full original sound. The videos are tripod shot, and for the trouser fillings Susie comes up close to the camera so we get nice close-up views as she pours the custard in, and we get to see it seep through her skin tight running trousers as she pours more in.
Includes these files:
gm-2f227-part-1.zip

3216x2136

332 photos

944.78 MB

sizes may vary
gm-2f227-part-2.zip

3216x2136

314 photos

944.69 MB

sizes may vary
gm-2f227-part-3.zip

3216x2136

255 photos

748.44 MB

sizes may vary
gm-2f227-v1-susie-custard-sportswear.mp4

1920x1080

5,044 Kbps

760.17 MB

21.1 minutes
gm-2f227-v2-bathtime.mp4

1920x1080

4,446 Kbps

348.95 MB

11.0 minutes

Report