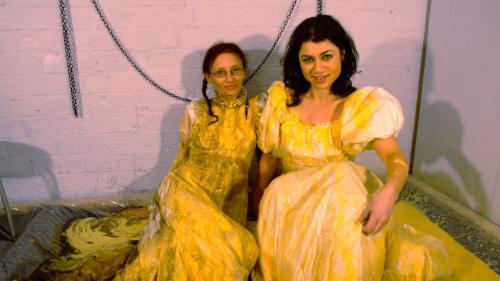 Starring these models:
"Lady Jasmine vs Lady Lucinda gunge each other in wedding dresses!"
| | |
| --- | --- |
| File count: | 2 |
| Total size: | 1.13 GB |
| Total runtime: | 13 mins, 25 secs |
| Date added: | 9/14/12 |
| Year produced: | 2009 |
| Product ID: | gm-2f63 |
| Views: | 4977 |
| Scene ID: | 4746 |

$6.00
Introducing Lady Lucinda de Avignon

What better way to introduce a Hall guest to the world of messy fun? Lady Lucinda de Avignon is another old schoolfriend of Lady Jasmine, hailing originally from the Mediterranean coasts of southern France she is a much sought after professional model, travelling the world to a variety of exotic assignments. Ocassionaly though, she likes to take a little time to herself, and where better than this remote Yorkshire mansion, where wild moors, strong walls and solitude can keep the world at bay for a while?

Of course staying in Lady Jasmine's hall has perils and temptations of its own, and so Lucinda finds herself in the dungeon, in a wedding dress, about to partake of the Hall's traditional entertainment!

Lady Jasmine, in an unusual but lovely white high-necked, long-sleeved, narrow figure wedding dress herself, graciously takes the first gunge, inviting Lucinda to pour a large jug of liquid treacle down the front of her white dress. At first, as the black liquid slips inside, nothing appears to happen, but then suddenly dark stains start to show through the fabric as the spreading tide of treacle engulfs the dress from within.

And then it's Lucinda's turn, jar after jar of golden syrup poured inside and then outside her wedding dress. Welcome to the world of gunge fun!

The two ladies go on taking turns to gunge each other, Lady J has her entire front coated in custard, and then Lucinda pours an entire bucket of liquid treacle down Lady Jasmine's back, after which Lady Jasmine pours a bucket of custard all down Lucinda's back, splashing it all over the lovely big bow at the back of Lucinda's wedding dress.

Both wedding dresses end up completely drenched in mess, the two ladies posing for the camera in their totally saturated gowns.

Technical: The still photos in this set have a colour cast, due to incorrect camera settings. The price has been set lower to reflect this. The video is not affected and has natural colour. Note the video is silent, due to copyright music playing when it was recorded.

Report
Includes these files:
gm-2f63-v1-bride-vs-bride.divx

720x400

1,305 Kbps

125.35 MB

13.4 minutes
gm-2f63.zip

2592x1944

Zip file of 399 photos

1 GB

sizes may vary
Free picture gallery:
.