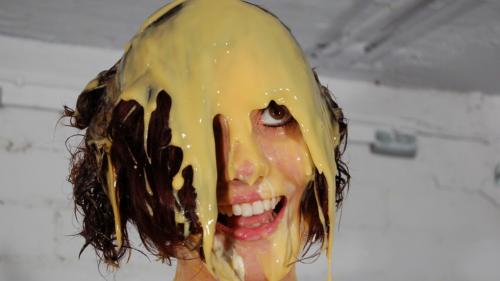 Starring the following model:
"Clothes filling fun in tight jeans with cream, custard, and milk!"
| | |
| --- | --- |
| File count: | 4 |
| Total size: | 1.69 GB |
| Total runtime: | 19 mins, 16 secs |
| Date added: | 4/13/14 |
| Year produced: | 2012 |
| Product ID: | gm-2f97 |
| Views: | 8341 |
| Scene ID: | 9850 |

$9.00
Skin-tight jeans and dance leotard, drenched in gunge!

Cream down her leotard,

cream down her jeans,

in Langstonedale's old hall,

this is the stuff of dreams!

Maude, youngest of the Hall's serving wenches, has a merry old time in the dungeon with cream and custard. Dressed in a Spandex dance leotard and a beautiful pair of high waisted, skin tight faded grey jeans, and with Wellington boots on to catch the flow, first she pours cream into her leotard, then she fills and covers her jeans. Milk next, flooding down the back of her jeans, and then a riot of cream and custard, over her clothes, into her hair, and down her front as her pretty face and big brown eyes disappear beneath a tide of custard.

Details: Maude completely covers her hair and face, as well as her clothes and boots. She fills her jeans and her leotard both front and back. At the end she takes her wellies off and empties their contents over herself, we get a brief glimpse, in the photos, of her wet and messy stripey socks right at the end.

Maude's outfit: Maude wears a genuine 80s vintage pair of tight fitting, stonewashed, grey, very high waisted jeans, which really show the "flood through" when she pours the milk into them, and also really show off her lovely figure.

Technical: The video for this scene has the original soundtrack, with quite a lot of direction from DM1 plus comments from Maude and Evelyne, who was running the video camera. We recommend watching it with the sound off, as the chatter is very distracting, but it's there for anyone who wants to hear it (this was meant to be a silent release but somehow the with-sound version got released instead). You also get a large zipfile of very high quality photos with the scene, plus a separate video of the hose-down clean-up at the end.
Includes these files:
gm-2f97-part-1.zip

3008x2000

Zip file of 390 photos

953.94 MB

sizes may vary
gm-2f97-part-2.zip

3008x2000

Zip file of 73 photos

191.26 MB

sizes may vary
gm-2f97-v1-maude-gets-the-cream.mp4

1920x1080

4,208 Kbps

486.76 MB

16.2 minutes
gm-2f97-v2-the-hosedown.mp4

1920x1080

4,217 Kbps

93.65 MB

3.1 minutes

Report