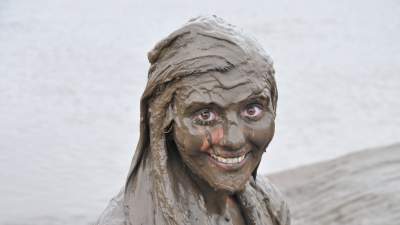 Starring the following model:
"Muddy exercise is the best!"
| | |
| --- | --- |
| File count: | 6 |
| Total size: | 2 GB |
| Total runtime: | 31 mins, 58 secs |
| Date added: | 6/20/17 |
| Year produced: | 2015 |
| Product ID: | gm-2m25 |
| Views: | 6010 |
| Scene ID: | 20920 |

$15.00
Maude is dressed for exercise, wearing skin tight black ladies running trousers over a black and purple swimsuit, with running shoes and a blue Bench branded full-zip hoodie. She walks into the mudbanks, and after a few minutes of trying really hard to stay upright while performing a variety of athletic poses, showing off how flexible she is, eventually she gives in to the temptation and lets herself fall into the mud, splat, several times!

Steadily she gets muddier and muddier, first the back of her trousers, then up to her knees, then from crawling she presses her front into the mud. Part way through the jacket comes off so we can enjoy a clearer view of her trousers and swimsuit succumbing to the mud, once the rest of her clothes are totally coated she puts it back on and utterly mud-drenches it too.

Needless to say her hair doesn't escape the muddy mayhem, and she gives herself a spectacular mud facial as well!

Technical: The main scene is 22 minutes of Maude in the mud in ladies running trousers, starting off clean and ending up utterly drenched, including taking her jacket off for part of the scene so we can see her the very nice high-back Speedo swimsuit she's wearing as a top get totally covered, and then putting it back on again, and then later taking the jacket, which is by now totally drenched in mud, off again, sinking it in liquid mud, filling the hood, and putting it back on a second time, pulling the mud-filled hood onto her head. Plus lots of sliding, splashing, and almost swimming in the foot deep liquid mud at the bottom of the gully. Plus 9 minutes of the hosedown back in the dungeons, Maude starts off in the black boilersuit she wore to travel back in, and then once that's completely soaked she removes it to reveal the same swimsuit she wore in the mud, which she's kept on throughout, and finishes the hosedown in just the swimsuit. All videos are Full-hd and have full original sound, except the first 40 seconds or so of the hosedown, when there was a lot of direction which has been blanked.
Includes these files:
gm-2m25-part-1.zip

4288x2848

Zip file of 152 photos

949.29 MB

sizes may vary
gm-2m25-part-2.zip

4288x2848

Zip file of 158 photos

947.05 MB

sizes may vary
gm-2m25-part-3.zip

4288x2848

Zip file of 114 photos

661.29 MB

sizes may vary
gm-2m25-v1a-maude-mud-workout-p1.mp4

1920x1080

8,451 Kbps

706.3 MB

11.7 minutes
gm-2m25-v1b-maude-mud-workout-p2.mp4

1920x1080

11,439 Kbps

895.06 MB

10.9 minutes
gm-2m25-v2-the-hosedown.mp4

1920x1080

9,850 Kbps

659.58 MB

9.4 minutes

Report