| | |
| --- | --- |
| Leather Skirt River Wading | |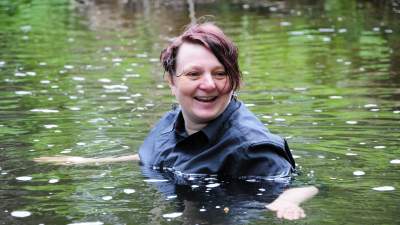 Starring the following model:
"Evelyne the Cook drenches her leather skirt and boots"
| | |
| --- | --- |
| File count: | 2 |
| Total size: | 1.75 GB |
| Total runtime: | 6 mins, 11 secs |
| Date added: | 10/02/17 |
| Year produced: | 2014 |
| Product ID: | gm-2w89 |
| Views: | 1161 |
| Scene ID: | 24605 |

$9.99
Dressed in black calf-high leather boots, black real leather knee length skirt, and black short-sleeved shirt tucked into her skirt, Evelyne the Cook wades into the river by the viaduct. With no hesitation she plunges first her leather boots, and then her pristine leather skirt, into the cold water. As she wades deeper the air trapped in her skirt causes it to inflate like a balloon as steps deeper into the water.

She wades in and out several times, sometimes letting the skirt inflate, another time releasing the air at the waistband so the skirt sinks into the river with her. She fully submerges, and comes leaping back to the surface in a great splash of water.

Note the skirt Evelyne is wearing is real leather, not pleather or vinyl, as are her boots. She is wearing black tights under the skirt but we hardly get to see them, though of course they get totally drenched under the skirt. Evelyne really enjoys splashing about in rivers and the sea, and chose this outfit herself to get soaked in.

Technical: This scene has full original sound. Mostly you hear Evelyne talking about what she's doing, plus some direction from DM1, occasional laughter from Felicity, who was waist deep in the water running the video camera, the sound of the river flowing and some very loud crows cawing in the trees above. Note that as always, the river, which flows from the high Pennines, was cold!
Includes these files:
gm-2w89-part-1.zip

3216x2136

Zip file of 240 photos

928.2 MB

sizes may vary
gm-2w89-v1-evelyne-leather-skirt-in-the-river.mp4

1920x1080

19,468 Kbps

862.59 MB

6.2 minutes

Report