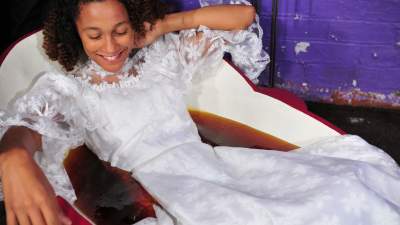 Starring the following model:
"Friday wears a beautiful white wedding gown into a bath of golden syrup!"
| | |
| --- | --- |
| File count: | 4 |
| Total size: | 2 GB |
| Total runtime: | 15 mins, 52 secs |
| Date added: | 9/26/17 |
| Year produced: | 2013 |
| Product ID: | gm-2f159 |
| Views: | 2463 |
| Scene ID: | 24473 |

$12.00
Beautiful Friday looks absolutely stunning in her gorgeous white satin and lace wedding gown. The dress is truly lovely, with delicate transparent lace detail below the high collar, and on down the outer later over the fabulous satin bodice and layered skirts, all in stunning pure white, just floating above her lovely bare feet.

Needless to say a dress as beautiful as that isn't going to stay clean for long round here, and look, here is a traditional tin bath, well filled with several gallons of thick, gloopy golden syrup. Evelyn the cook, in a spotless black boilersuit, steadies the bath, and slowly Friday lowers herself back into it, first the trailing lace streamers just rest on the surface, surely she could stop here, stand back up, save the dress from its fate... Nope! In she goes, her shapely satin-clad bottom pressing down on the surface and then the dress sinking into the syrup even as the level rises, as Friday sits all the way back and immerses herself in the syrup bath.

Friday comes to rest with the underside and both sides of the dress submerged, just the front still clean and pristine. And then Evelyne brings over a fresh gallon bottle of syrup, and starts pouring it all over the remaining clean areas of the dress, while Friday plunges her arms into the thick, rich liquid and enjoys creating flows and films between her arms.

The dress ends up utterly drenched in syrup from collar to hem, after a while Friday pulls her bare feet into the bath and with them the remaining clean and dry bottoms of her skirts, which had been hanging over the side, get their drenching and submersion in syrup too.

Technical: The video for this scene has full original sound. Note there's no hair or face coverage in this scene, it's all about the wedding dress.
Includes these files:
gm-2f159-part-1.zip

3216x2136

Zip file of 277 photos

946.28 MB

sizes may vary
gm-2f159-part-2.zip

3216x2136

Zip file of 171 photos

665.02 MB

sizes may vary
gm-2f159-v1a-friday-wedding-syrup-bath-p1.mp4

1920x1080

6,789 Kbps

385.87 MB

7.9 minutes
gm-2f159-v1b-friday-wedding-syrup-bath-p2.mp4

1920x1080

8,431 Kbps

479.2 MB

7.9 minutes

Report