| | |
| --- | --- |
| Two Girl Jeans Filling Fun! | |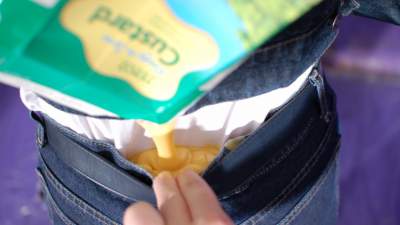 Starring these models:
"Lady Rose and Maude mess each other up completely"
| | |
| --- | --- |
| File count: | 7 |
| Total size: | 2 GB |
| Runtime: | 30 mins, 1 sec |
| Released: | 7/23/14 |
| Produced: | 2012 |
| Product ID: | gm-2f128 |
| Views: | 16063 |
| Scene ID: | 10566 |

$12.00
Dressed simply in blue jeans, white t-shirts, plimsolls, and in Maude's case a denim jacket, the two girls have a fabulous time filling each other's clothes with custard, ending up totally drenched from head to foot.

They start off with jeans filling, taking turns to pour entire cartons of custard inside each other's jeans, down the back first, and then down the front too. Eventually the custard in Maude's jeans flows out over her black plimsolls, messing them up significantly. Maude also sits down in her custard filled jeans, and when she stands up again we can see the custard wetness seeping through the denim.

Lady Rose has her jeans pockets filled, front and back, Maude makes a bit of a mess of this and leaves Rose with thick custard streaks down her jeans. Then they fill each other's t-shirts, custard first, then adding rice pudding to the mix. And then they start to play with golden syrup too.

Hair coverage is not forgotten, with Maude subjecting Lady Rose to a very thorough custard shampoo. Maude's own beautifully thick black hair doesn't escape, first she is given a crown of squirty cream, before sitting down again and allowing Rose to give her a very thorough messy shampoo of her own.

By the end of the scene both girls are totally drenched, head to toe, in custard, rice pudding, syrup, and cream.

Outfit notes: Both girls are wearing traditional western-style high-waist jeans, which accentuate the female figure with long legs and a very feminine bottom and waistline. They look fantastic clean and dry, and even better once drenched in gunge!

Technical notes: The full scene is half an hour long, it's been split into three parts to comply with UMD file size limits. Part 1 has the clothes filling, Part 2 has the messy shampooing, and Part 3 has the final general muck-about where they cover any remaining clean spots and end up on the floor together slopping custard over each other. All three videos have full original sound, with the girls laughing and giggling as they reduce each other to sticky messes.
Includes these files:
gm-2f128-part-1.zip

3008x2000

Zip file of 378 photos

955.36 MB

sizes may vary
gm-2f128-part-2.zip

3008x2000

Zip file of 376 photos

954.19 MB

sizes may vary
gm-2f128-part-3.zip

3008x2000

Zip file of 217 photos

550.71 MB

sizes may vary
gm-2f128-v1-maude-and-lady-rose-in-denim-dl-part-1.mp4

1920x1080

7,776 Kbps

830.68 MB

14.9 minutes
gm-2f128-v1-maude-and-lady-rose-in-denim-dl-part-2.mp4

1920x1080

9,968 Kbps

548.52 MB

7.7 minutes
gm-2f128-v1-maude-and-lady-rose-in-denim-dl-part-3.mp4

1920x1080

10,811 Kbps

573 MB

7.4 minutes

Report