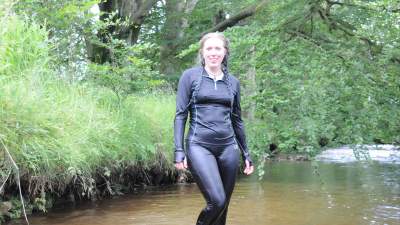 Starring the following model:
"Purity goes swimming in a ladies running outfit"
Exercising in water is incredibly healthy, in fact swimming is the best form of exercise known. But swimming in just a swimsuit is terribly dull. So purity goes for a healthy dip in the viaduct pools dressed in a full ladies running outfit, skin-tight black running trousers and black top, with black converse basketball boots. She wades into the water, wades out again, goes back in, leaps, splashes, and swims in the natural pool. Her entire outfit gets very wet indeed!
Technical: This scene has full original sound throughout.
| | |
| --- | --- |
| File count: | 4 |
| Total size: | 2 GB |
| Total runtime: | 14 mins, 20 secs |
| Date added: | 6/04/17 |
| Year produced: | 2015 |
| Product ID: | gm-2w118 |
| Views: | 4296 |
| Scene ID: | 21657 |

$10.00
Includes these files:
gm-2w118-part-1.zip

3216x2136

Zip file of 244 photos

812.22 MB

sizes may vary
gm-2w118-v1a-purity-swims-in-running-gear-p1.mp4

1920x1080

23,953 Kbps

848.41 MB

5.0 minutes
gm-2w118-v1b-purity-swims-in-running-gear-p2.mp4

1920x1080

24,183 Kbps

685.37 MB

4.0 minutes
gm-2w118-v1c-purity-swims-in-running-gear-p2.mp4

1920x1080

24,030 Kbps

936.43 MB

5.4 minutes

Report