| | |
| --- | --- |
| Soaking a Long Denim Skirt | |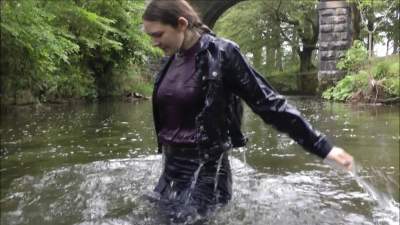 Starring the following model:
"Chastity takes a dip in the river while dressed in denim"
| | |
| --- | --- |
| File count: | 3 |
| Total size: | 1.69 GB |
| Total runtime: | 4 mins, 23 secs |
| Date added: | 5/19/17 |
| Year produced: | 2014 |
| Product ID: | gm-2w90 |
| Views: | 4740 |
| Scene ID: | 13003 |

$7.00
The Summer of 2014 has been a real scorcher up here in Langstonedale, so much so that Lady Jasmine's midsummer garden party, held under a blazing sun and clear blue sky on Midsummer's Day, 21st June, was a much larger affair than in recent years and attended by members of almost all the noble families in the district, including several who haven't left their own estates in years.

Chastity, our head gardener, and also a specialist (and very hands on specialist) in water gardening, wanted to dress appropriately for such illustrious company, but also in keeping with her role. And in something she'd enjoy getting wet in. Denim was the obvious answer, but instead of her regular working overalls, this time she opted for a floor length blue denim skirt, with purple t-shirt and blue denim jacket, and finished the outfit off with Union Jack wellington boots.

Somehow Chastity managed to avoid being thrown into the houseponds, somewhat to her disappointment, so later in the day, she takes a walk down to the railway viaduct at the southern boundary, and has a nice relaxing dip in the river, still fully-dressed of course.

She soaks her lovely long denim skirt first, wading carefully into the water and soaking the skirt all the way to her waist before turning and wading out again. Back in she goes, and this time she doesn't stop till her t-shirt and denim jacket are completely drenched too, and then she goes for a bit of a swim in the water, proving that wellies and a skirt are no impediment to swimming.

Eventually she wades, soaking wet, back out of the water, and poses, dripping, on the bank.

Technical: This scene has full original sound.
Includes these files:
gm-2w90-part-1.zip

3216x2136

Zip file of 242 photos

955.68 MB

sizes may vary
gm-2w90-part-2.zip

3216x2136

Zip file of 34 photos

39.56 MB

sizes may vary
gm-2w90-v1-chastity-river-wading-in-long-denim-skirt.mp4

1920x1080

23,472 Kbps

738.35 MB

4.4 minutes

Report