| | |
| --- | --- |
| Nurse Jasmine in the Mud! | |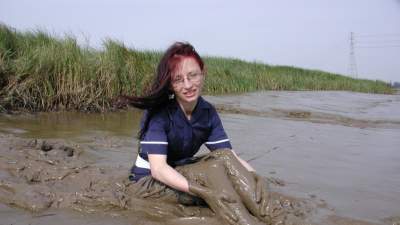 Starring the following model:
"Lady Jasmine's second mud shoot, in nurses uniform!"
| | |
| --- | --- |
| File count: | 1 |
| Total size: | 122.65 MB |
| Date added: | 9/03/11 |
| Year produced: | 2005 |
| Product ID: | gm-m002 |
| Views: | 8835 |
| Scene ID: | 2839 |

$5.00
Nurse Jasmine, dressed for the wards in a knee-length navy blue nurses uniform dress, white nurses belt, and pristine white lace-up pumps with ankle-high white socks, totally wrecks her uniform, shoes and socks in deep, thick, riverbank clay!

The photographer went right into the mud with Lady Jasmine, so there are close-up detailed shots of her feet sinking in, and then everything while she is in the mud is shot from close quarters, showing views you'd not see from a dry-land vantage point.

She wades out into the mud, feet sinking as she goes until she gets stuck, then she sits down, bottom sinking into the soft mud, lies back, and scooping up huge handfuls of sloppy, wet mud, gradually covers her dress completely, first totally coating the skirt, then slowly smearing more and more mud over her upper half until her dress is totally coated in sloppy clay.

She also starts on her hair while she's covering her dress, and spots a big dollop on her nose!

She goes on to completely cover her face in two stages, removing her glasses for the second stage, and then just larks about in the mud, sitting, standing., sliding, lying down, all with her dress, shoes, bare legs, and head, completely coated in luscious sloppy clay.

Eventually she wades back out of the mud and poses for a few shots, totally covered in mud, on the grass bank behind.

This was the second ever Saturation Hall photoshoot, shot at 3.1 megapixels, 2048 x 1536, 255 images.

Report
Includes this file:
gm_m002.zip

2048x1536

Zip file of 255 photos

122.65 MB

sizes may vary
Free picture gallery:
.