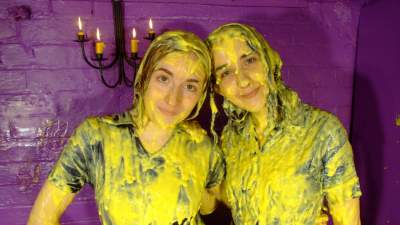 Starring these models:
"And now it's your turn!"
| | |
| --- | --- |
| File count: | 4 |
| Total size: | 1.17 GB |
| Total runtime: | 41 mins, 31 secs |
| Date added: | 3/02/12 |
| Year produced: | 2009 |
| Product ID: | gm-2f42 |
| Views: | 4459 |
| Scene ID: | 3514 |

$9.00
Fresh from her bondage cola-drenching, Lady Rose is back, this time dressed in a smart dark blue nurses uniform, with white plimsolls and bare legs, and in the spirit of fairness Sister Graves submits to a game of scissors--paper--stone, knowing full well that her lovely plain black dress, her black plimsolls, and her waist-length hair, will all suffer this time!

Round one of the game actually goes to the good sister, and so it's Lady Rose's uniform dress that is the first to succumb to the custard's sticky yellow embrace, but before long her ladyship wins the upper hand, and all of a sudden Sister Graves isn't looking quite so smart and severe any more, as thick yellow gunge starts to flow over and soak into her dress.

Back and forth the gungings go, Lady Rose's outfit is soon entirely engulfed in custard, but so too is Sister Graves, her dress reduced to a wet, slimy mess, and her beautiful long hair lovingly consumed in a thorough custard shampooing that leaves no strand ungunged.

Gunge submission!

This download includes a 34 minute silent video and over 700 photos of the two girls messing each other up, plus six minutes and 61 photos of the clean-up hosedown, with the girls taking turns under the hose and helping each other to slowly wash the custard out of their hair and off their dresses, with lots of rubbing and scrubbing. Both videos were shot from a tripod and offer rock-steady images throughout, with an occasional change of camera angle to capture the action properly.

Report
Includes these files:
gm-2f42-v1-roses-revenge.divx

720x400

1,305 Kbps

323.73 MB

34.7 minutes
gm-2f42-v2-the-hosedown.divx

720x400

1,305 Kbps

64.05 MB

6.9 minutes
gm-2f42.zip

2592x1944

Zip file of 715 photos

748.46 MB

sizes may vary
gm-2fx42_-_hosedown.zip

2592x1944

Zip file of 60 photos

63.14 MB

sizes may vary
Free picture gallery:
.