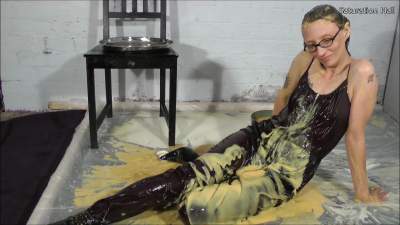 Starring the following model:
"Her Ladyship gets very messy in a fashionable all-in-one"
| | |
| --- | --- |
| File count: | 3 |
| Total size: | 2 GB |
| Runtime: | 24 mins, 59 secs |
| Released: | 12/23/17 |
| Produced: | 2011 |
| Product ID: | gm-2f102 |
| Views: | 1657 |
| Scene ID: | 24448 |

$9.99
Lady Jasmine wears a charcoal coloured silky spaghetti-strap jumpsuit from H&M, black panties but no bra, with neat little brass studded leather black high-heeled ankle boots, and gets herself very messy indeed!

She starts with a carton of milk poured into her suit, which floods down inside and leaks out all over the fabric. Then she pours some honey into a tray, and sits in it, saturating the seat of her suit. Next she takes one of her little boots off, revealing the shiny silver interior, before she fills it with custard and then puts it back on her foot.

More honey comes next, poured all over the front of her jumpsuit, completely soaking through it and turning it semi-transparent so we can just make out her black panties under the suit. She masages the honey into the suit amd her skin beneath.

Next she sits cross-legged on the floor, and using the blue jasperware custard tureen, which has been filled with custard, she scoops out handfuls and gives herself a thorough custard shampoo.

Now she pour more custard, including the remaining contents of the tureen, all over herself, ensuring her entire outfit and hair and totally saturated, before finishing herself off with a final carton of milk over her head and face.

The photoset also includes the wash-off during which Lady Jasmine washes the chair, tray, and tureen, as well as herself, while being hosed down. The video shows the messing but not the hosedown.

Technical: Due to copyright music and crew chatter during the recording, there is no sound on this video.
Includes these files:
gm-2f102-part-1.zip

3008x2000

361 photos

945.97 MB

sizes may vary
gm-2f102-part-2.zip

3008x2000

300 photos

786.75 MB

sizes may vary
gm-2f102-v1-lady-jasmine-charcoal-jumpsuit.mp4

1920x1080

5,410 Kbps

967.05 MB

25.0 minutes

Report