| | |
| --- | --- |
| Fully-Clothed Soaking in the Fairy Falls | |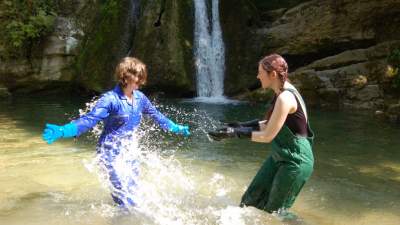 Starring these models:
"Chastity and Maude go splash-crazy in the waters of Ladylinn Fosse!"
| | |
| --- | --- |
| File count: | 1 |
| Total size: | 725.51 MB |
| Date added: | 3/18/14 |
| Year produced: | 2011 |
| Product ID: | gm-2w54 |
| Views: | 6016 |
| Scene ID: | 9353 |

$5.00
Spring comes late to Langstonedale, but when it finally arrives it brings beautiful days of warm winds and blazing sunlight, bright clear light that brings all of nature to life and fills the high moors with flowers.

It was on one such lovely Spring morning that Chastity the Head Gardener, and Maude, at just nineteen the youngest chamberwench from the house, took themselves off along the estate footpaths to the ancient and enchanted waterfalls at Ladylinn Fosse, a few miles from the mansion. This is a truly magical place, carved from the rock thousands of years ago when the glaciers retreated and billions of gallons of water came cascading down off the high plateau as the ice melted, and according to legend inhabited by a faerie queen, who grants gifts of good fortune to all who take a fully-clothed dip in her pool below the waterfall.

Both young ladies are of course dressed for the water, Saturation Hall style, so Chastity is in black swimsuit, green dungarees, and black wellies, while Maude wears a tight fitting royal blue boilersuit, and blue wellies, and both wear rubber gloves to compliment their outfits, Chastity's big and black, Maude's more delicate and blue.

And in no time at all, they are both soaking wet!

They leap in, flooding their boots as soon as they enter the water, and then waste no time in drenching each other with great sprays and splashes, before going closer to the falls themselves and into the deeper water. They lie back, totally soaked, and float just below the surface, and then stand up again and drench each other some more. Boots and gloves are filled and emptied over each other, and both girls end up utterly drenched and dripping wet from head to toe.

Welcome to the Langstonedale Spring!