| | |
| --- | --- |
| Fizzydipping with Chastity! | |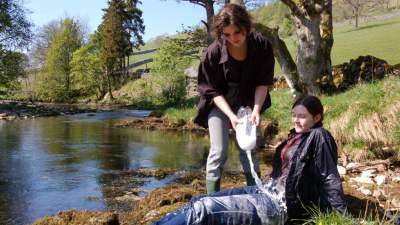 Starring the following model:
"Chastity gets foamed, and swims in jeans and t-shirt"
| | |
| --- | --- |
| File count: | 1 |
| Total size: | 954.52 MB |
| Date added: | 3/13/14 |
| Year produced: | 2011 |
| Product ID: | gm-2w56 |
| Views: | 5039 |
| Scene ID: | 9612 |

$7.00
Dressed in blue denims, dark t-shirt, and lace-up black plimsolls, Chastity first takes a lemonade shower on the riverbank at the hands of Maude, and then, soaked to the skin in fizz, she plunges into the river for a fully-clothed swim, denim jacket and all!

The treatment starts with Chastity standing up, having her jeans filled with lemonade, first down the front, and then down the back, with lots of close ups of the action as the fizzy liquid is poured into her jeans, soaking through them and flowing in wet streaks down her legs, wetting and darkening the fabric as it goes.

Next Chastity sits down and submits to a complete drenching in lemonade from Maude, who pours a whole series of two litre bottles over her victim, including down her front, down her back, down inside her jacket from the neck, all over her legs, and full head coverage. All through her drenching Chastity sits calmly, unresisting, and submits to her wet and fizzy fate.

And then, completely drenched from head to toe in lemonade, Chastity wades into the deep pool of the river and goes for a fully-clothed swim, keeping her denim jacket on throughout.

Extra info: Shot on location in the glorious English spring sunshine of 2011, this photoset combines a willing waterwench, fantastic wetlook action, and the stunning backdrop of the world-renown Yorkshire Dales.

Report