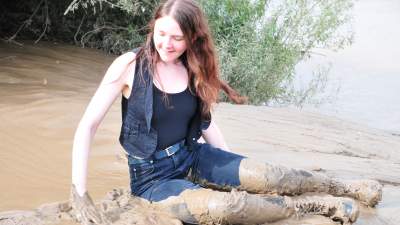 Starring the following model:
"Chastity wears Armani jeans into the mudbanks"
| | |
| --- | --- |
| File count: | 3 |
| Total size: | 2 GB |
| Runtime: | 19 mins, 17 secs |
| Released: | 11/23/17 |
| Produced: | 2013 |
| Product ID: | gm-2m10 |
| Views: | 2085 |
| Scene ID: | 24929 |

$15.00
Designer jeans: quality fabric, beautiful fit. But how will they handle a proper Langstonedale mudbath?

Chastity wears a beautiful pair of black Armani jeans, black heeled boots, black swimsuit and little black denim waistcoat, and plunges into the mudbanks! First she steps into the soft mud, watching her thoroughly impractical boots sink into the surface, then she sits down, still in the slightly dryer higher slopes, and spins round on her bottom to ensure a muddy coating on the seat of her jeans. Then she wades into the sloppier mud, sits again, crawls, lies down, slides herself through the liquid clay, and generally has a great time total coating herself in beautiful flowing riverbank mud.

She stops to pose at various points during her mudding, letting us enjoy her outfit as it gradually gets muckier and muckier until not a clean stitch is left. She drenches her hair and covers her face in mud too.

Conclusion: Chastity thinks your designer jeans will look even better if you take a mudbath in them. Try it today!

Technical: The video is in full-hd and is 19 minutes long, with full original sound throughout. Chastity keeps her heels on for the entire scene, and it was shot up close and personal with the camera operator right there in the mud with Chastity--no shaky zoomed in from the bank stuff, and you get to see in detail every part of Chastity's outfit, hair, and skin as they make contact with and get coated by the mud.
Includes these files:
gm-2m10-part-1.zip

3216x2136

225 photos

828.4 MB

sizes may vary
gm-2m10-v1a-chastity-mud-armani-jeans-p1.mp4

1920x1080

13,142 Kbps

899.34 MB

9.6 minutes
gm-2m10-v1b-chastity-mud-armani-jeans-p2.mp4

1920x1080

14,146 Kbps

984.39 MB

9.7 minutes

Report