| | |
| --- | --- |
| Competition Swimsuit Filling | |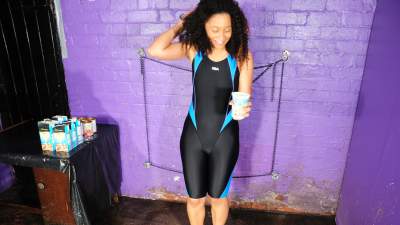 Starring the following model:
"Friday fills her N S A legsuit with cream, cusard, and soup!"
| | |
| --- | --- |
| File count: | 6 |
| Total size: | 2 GB |
| Total runtime: | 20 mins, 13 secs |
| Date added: | 12/15/16 |
| Year produced: | 2015 |
| Product ID: | gm-2f209 |
| Views: | 4140 |
| Scene ID: | 19186 |

$15.00

Report
One for the Spandex and skin-tight and swimsuit fans, watch as Friday, dressed in an N S A competition legsuit swimsuit, in black with blue highlights, completely fills and covers her suit with cream, custard, and tomato soup!

First she fills the front of her suit with cream, which initially doesn't show, and then starts to seep through the fabric at about waist height. She follows the cream with a can of tomato soup poured inside, and that causes the cream to flood through the crotch of the suit while the soup itself flows into her legs and gets trapped by the legsuit's rubberised leg hems, designed to prevent it sliding up when swimming.

Friday completely fills and covers her suit in mixed mess, and also gives herself a thorough messy shampoo as well. She is then hosed down and fully washes her hair with shampoo and conditioner, all while still wearing the swimsuit.

Being filled with gunge--it's what swimsuits are for!

Technical: Both videos for this scene have full original sound. You also get four zip files of high-resolution photos, the first features fully detailed clean and dry shots of Friday from all angles including rear views, and then the swimsuit filling, the second has the messy shampoo, the third has the start of the hosedown and the fourth has the shampoo and conditioner sequence.
Includes all of the following files:
gm-2f209-part-1.zip

3216x2136

Zip file of 291 photos

944.75 MB

sizes may vary
gm-2f209-part-2.zip

3216x2136

Zip file of 267 photos

945.19 MB

sizes may vary
gm-2f209-part-3.zip

3216x2136

Zip file of 264 photos

947.6 MB

sizes may vary
gm-2f209-part-4.zip

3216x2136

Zip file of 131 photos

510.85 MB

sizes may vary
gm-2f209-v1-friday-legsuit-swimsuit-filling.mp4

1920x1080

7,598 Kbps

571.65 MB

10.5 minutes
gm-2f209-v2-friday-legsuit-hosedown.mp4

1920x1080

5,617 Kbps

390.29 MB

9.7 minutes
More scenes
Tell others about this scene: