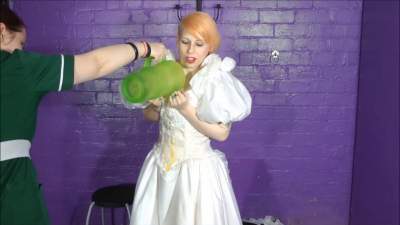 Starring the following model:
"Beautiful, pettite Kitty, bean-drenched in a wedding dress!"
| | |
| --- | --- |
| File count: | 6 |
| Total size: | 2 GB |
| Total runtime: | 21 mins, 38 secs |
| Date added: | 10/20/14 |
| Year produced: | 2012 |
| Product ID: | gm-2f133 |
| Views: | 6267 |
| Scene ID: | 12591 |

$12.00
Meet Kitty Kodena, dancer, security expert: and gunge-maiden!

Dressed to the nines in a spectacular wedding dress with a beautiful train, complete with all the correct underpinnings, white bra and panties, white stockings, and pretty cream leather high-heeled strapy shoes, doesn't she look pretty? But there's an old saying on the high, wild moors of Langstonedale. "No pretty lady goes ungunged for long!" And Nure Wendy is ready and all too willing to dish out the mess!

Just like a good English breakfast, the destruction of Kitty's wedding dress begins with eggs. Plop! One by one they are tipped down inside the front of the beautiful gown, and all too soon that dazling white bodice starts to stain yellow from the inside. Why does the lady not flee her fate, save her dress, you cry? Well, partly because Kitty really loves a good gunging and can't wait to hve as much mess as possible poured into her doomed dress. But being pinned to the floor by two large buckets of bakes beans placed on the train of her dress might have something to do with it too.

Raw eggs are all very well, but tomato soup is even messier. And follows the eggs, several cans poured into Kitty's dress to flood down inside and soak dress, underwear, and stockings in a tide of orange goo. And then there are baked beans too.

Kitty doesn't just stand there and take her gunging either. Buckets of beans are provided, and she carefully places her pretty shoes in them, pushing them in and out, soaking the leather in bean juice and ketchup. She sits down, and has lots of beans poured over the front of her dress--and even more poured down her back and over that lovely long train. Her head and hair get the treatment too!

Kitty ends up totally drenched in mess, from head to toe, with her complete outfit, underwear, shoes, and dress, utterly saturated in savoury mess, and her hair and face coated too.

Kitty Kodina: Bride of Beans!

Technical: The videos in this scene have full original sound.

Report
Includes these files:
gm-2f133-part-1.zip

4288x2848

Zip file of 242 photos

957.5 MB

sizes may vary
gm-2f133-part-4.zip

4288x2848

Zip file of 199 photos

955.26 MB

sizes may vary
gm-2f133-part-2.zip

4288x2848

Zip file of 231 photos

956.53 MB

sizes may vary
gm-2f133-part-3.zip

4288x2848

Zip file of 220 photos

956.53 MB

sizes may vary
gm-2f133-part-5.zip

4288x2848

Zip file of 32 photos

165.47 MB

sizes may vary
gm-2f133-v1-kitty-marries-the-beans.mp4

1920x1080

3,371 Kbps

521.75 MB

21.6 minutes
Free picture gallery: