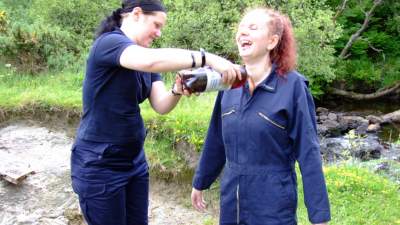 Starring these models:
"Wendy and Lady Amaranth drenching each other in cola and water for fun"
| | |
| --- | --- |
| File count: | 2 |
| Total size: | 847.93 MB |
| Total runtime: | 19 mins, 40 secs |
| Date added: | 12/31/12 |
| Year produced: | 2009 |
| Product ID: | gm-2w30 |
| Views: | 3851 |
| Scene ID: | 5430 |

$6.00
During the household's annual Scottish hunting trip, Lady Amaranth (36), and Nurse Wendy-Household (22) take a little time out to dress up in working outfits, and thoroughly drench each other, first with lots of cola, and then by frolicking neck-deep in the deeping pool, still wearing their cola-drenched clothes.

They start out by taking turns to pour full two litre bottles of cola down inside each others outfits. Lady Amaranth takes first wetting, happily allowing Wendy to fill the front of her boilersuit with a full bottle, before emptying one of her own inside Wendy's polo shirt. Amaranth then takes a full bottle down her front on the outside, before thoroughly filling Wendy's combat trousers at the front. Next Lady Amaranth turns and lets Wendy pour a full bottle into the collar of her boilersuit, filling the back of it, and then takes another bottle over the outside of her back and bottom, before getting her final revenge, as Wendy turns round and lets Amaranth fill the back of her combats.

You can tell from the expressions on their faces that these two are really, really enjoying both giving and receiving their wettings, happily submitting to each other and revelling in the feelings as their clothes are filled with fizzing, forming cola.

And then, with all the cola used up, first Lady Amaranth sits down and empties the contents of her wellies over herself, and then the two of them wade into the deeping pool together and get thoroughly and completely soaking wet in the water, going neck deep and utterly drenching themselves.

Nurse Wendy wears and wets navy blue combat trousers, a navy blue polo shirt, and 14 hole "Doc Marten" boots.

Lady Amaranth wears and wets a navy blue zip front boilersuit, and blue rubber boots.

This scene is an absolute must for anyone who loves seeing girls who enjoy wearing industrial outfits, and getting soaking wet in them.

Technicals: The video that goes with this scene was shot by one of the other models on the trip, and is a bit shaky, plus the sound has been removed, so the scene is priced only for the photos with the video thrown in as a free extra. It's still watchable but in places zooms in too far and suffers from camera shake as a result. Not the fault of the girl who filmed it, our fault for not telling her not to zoom in.

Report
Includes these files:
gm-2w30-v1-industrial-cola-drenching-wendy-amaranth.divx

720x400

1,304 Kbps

183.63 MB

19.7 minutes
gm-2w30.zip

2592x1944

Zip file of 578 photos

664.3 MB

sizes may vary
Free picture gallery:
.