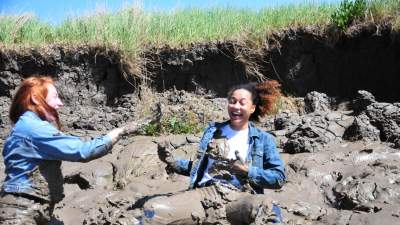 Starring these models:
"The girls from Langstonedale playing in the River Avon mudbanks"
| | |
| --- | --- |
| File count: | 7 |
| Total size: | 2 GB |
| Runtime: | 28 mins, 18 secs |
| Released: | 6/15/16 |
| Produced: | 2015 |
| Product ID: | gm-2m19 |
| Views: | 6160 |
| Scene ID: | 18062 |

$15.00
Take two lovely young women dressed in the American classic of blue jeans, plain white t-shirts, and blue denim jackets, add classic British wellington boots, and on a gloriously sunny day, send them into the mudbanks of finest Avon clay to completely cover themselves and each other in as much rich brown mud as possible!

They wade in, fall over, sit down, roll around, and end up completely coated in mud, shrieking with laughter all the way through it. At one point they take turns to push each other over in the sloppiest bit, denim-clad bottoms sinking "splat!" into all-engulfing mud, at another point Friday throws handfuls of mud at Daphne, who deftly catches each one and then splats them on her own clothes.

Every detail is shown as they go from smart and clean to totally covered, including full views of both girls' jeans getting covered, as well as their top halves. Their hair isn't spared either, lovely locks engulfed in thick mud.

Two wonderful girls in classic outfits having a whale of a time getting totally covered in mud--muddy perfection!

Technical: The videos have full original sound throughout. As with all Saturation Hall mud scenes both the video and the still photos were shot up close and personal, we go right into the mud with our girls and shoot from the heart of the action, so every detail is captured.
Includes these files:
gm-2m19-part-1.zip

4288x2848

Zip file of 128 photos

951.08 MB

sizes may vary
gm-2m19-part-2.zip

4288x2848

Zip file of 127 photos

950.5 MB

sizes may vary
gm-2m19-part-3.zip

4288x2848

Zip file of 123 photos

951.91 MB

sizes may vary
gm-2m19-part-4.zip

4288x2848

Zip file of 7 photos

54.57 MB

sizes may vary
gm-2m19-v1a-daphne-and-friday-jeans-and-mud-part-1.mp4

1280x720

11,883 Kbps

759.19 MB

8.9 minutes
gm-2m19-v1b-daphne-and-friday-jeans-and-mud-part-2.mp4

1280x720

11,905 Kbps

842.58 MB

9.9 minutes
gm-2m19-v1c-daphne-and-friday-jeans-and-mud-part-3.mp4

1280x720

11,898 Kbps

809.45 MB

9.5 minutes

Report