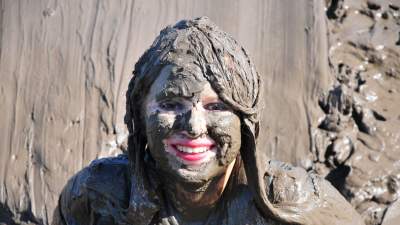 Starring the following model:
"Felicity wears an industrial festival outfit in the mudbanks"
| | |
| --- | --- |
| File count: | 5 |
| Total size: | 2 GB |
| Total runtime: | 23 mins, 20 secs |
| Date added: | 9/17/17 |
| Year produced: | 2016 |
| Product ID: | gm-2m23 |
| Views: | 2842 |
| Scene ID: | 22004 |

$15.00
Attend any of the huge alternative scene festivals held across Europe in the Summer months and you'll come across plenty of young women dressed in a variation on what has become the 'German Industrial Girl Uniform' of knee-length combat shorts (in this case worn over fishnets), army boots, and a dark top. And as Felicity, who at the time had her hair a stunning platinum blonde, loves both the outfit and the mud, what better than to combine the two?

Felicity's shorts suffer first but the rest of the outfit soon follows, and her stunning blonde hair doesn't escape the treatment either. She ends up completely covered from head to boots.

She wades in, gets very stuck, sits down, hauls her boots out, gets stuck again, digs her feet back out, lies down in the mud, presses her front into the sloppiest area she can find, half-swims half-crawls along through the liquid mud in the gully-bottom on her front, takes her boots off as they keep getting stuck and does more crawling and dragging, and finishes off with several slides down the steep banks, straight towards the camera.

Note the photoset only covers the intro and then the end of the shoot, where she's well covered and then does her hair. The video features the entire scene from start to finish including every moment of her clean self meeting the mud, and all the getting stuck, falling over, lying down, and digging herself out. There is full original sound throughout with felicity occasionally talking about what she's doinig, plus laughs and giggles as she gets ever more covered in mud.
Includes these files:
gm-2m23-part-1.zip

4288x2848

Zip file of 134 photos

948.14 MB

sizes may vary
gm-2m23-part-2.zip

4288x2848

Zip file of 118 photos

864.22 MB

sizes may vary
gm-2m23-v1a-felicity-shorts-mud-p1.mp4

1920x1080

10,813 Kbps

619.25 MB

8.0 minutes
gm-2m23-v1b-felicity-shorts-mud-p2.mp4

1920x1080

15,232 Kbps

893.8 MB

8.2 minutes
gm-2m23-v1c-felicity-shorts-mud-p3.mp4

1920x1080

14,603 Kbps

745.92 MB

7.1 minutes

Report