| | |
| --- | --- |
| A Warm Afternoon in the River | |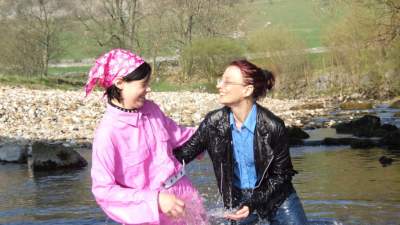 Starring these models:
"Lady Jasmine and the Pink Pourer, soaking wet together!"
| | |
| --- | --- |
| File count: | 1 |
| Total size: | 441.19 MB |
| Date added: | 12/20/11 |
| Year produced: | 2007 |
| Product ID: | gm-2w08 |
| Views: | 9035 |
| Scene ID: | 3312 |

$5.00
Lady Jasmine, in her jeans and wellies, and her fiendish gunge-helper, The Pink Pourer, make the most of a hot afternoon in the Dale near the Hall, just by the village, splashing each other, paddling, and getting generally soaked.

Outfits: Lady Jasmine wears blue jeans, a pale blue shirt, green wellies, and a black leather-look jacket. The Pink Pourer wears a pink jumpsuit, pink wellies, pink and white scarf, and white belt.

Lady Pink takes to the water first, paddling, sitting down, and then allowing Lady Jasmine to splash water over her. Then it's Lady Jasmine's turn, she wades into the clear water, flooding her boots, slowly soaking her jeans all the way to her waist, and then lying back and going for a swim, still with her jacket and wellies on.

The weather was wonderful, still and warm, and this location under a lovely old stone bridge was beautiful, so these two, friends for a long time now, made the most of it, splashing in and out of the river, Lady Jasmine swimming in the deep pool below the bridge. Lady Jasmine's jeans, jacket, shirt and boots get completely drenched, and The Pink Pourer's boilersuit and boots totally soaked. All in all, a wonderful way to spend an afternoon!

Photographed on the hottest day of 2007 in the full blaze of the early afternoon sun, this 600 image set was deliberately shot with camera settings chosen to maximise the detail visible in the girls' outfits getting wet.

Report
Includes this file:
gm-2w08.zip

2048x1536

Zip file of 600 photos

441.19 MB

sizes may vary
Free picture gallery:
.